The 'American Assassin' Red Band Trailer Is the Action You Need
Dylan O'Brien and Michael Keaton star in 'American Assassin.'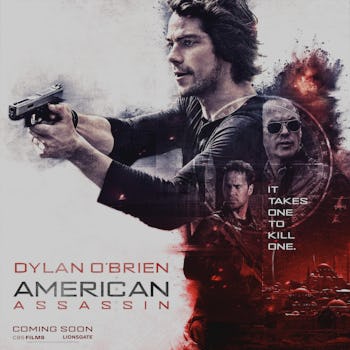 CBS Films
Based on the bestselling series of novels by the late Vince Flynn, American Assassin stars Dylan O'Brien as Mitch Rapp, a 20-something whose fiancee is killed in a senseless terror attack. Reeling over her death, Rapp begins training himself to take down terrorist cells as a sort of revenge plot. Mitch is thrown, though, when he's picked up by a shadowy sector of the CIA and delivered to Stan Hurley (Michael Keaton), described as a "warrior" who seems to have had a hand in training plenty of the titular American assassins. The film just got its first red band trailer, and it's predictably filled with blood, splintered bones, and young Americans taking revenge.
Eventually, it becomes clear that Mitch is a natural at the whole "assassin" thing once he begins his training. He tests off the charts in the CIA's program in a way that gets Hurley worried.
Enter Ghost (Taylor Kitsch), a former trainee of Hurley's who seems to have gone dark side. Mitch, Hurley, and their team move to taking Ghost down in 48 hours before he can set off a nuclear bomb. But it seems they don't get there in time before some nasty stuff goes down, including a nuke going off underwater and battleships being torn apart and slamming together.
O'Brien, best known for his role as the goofy sidekick in MTV's Teen Wolf, looks to be a chillingly determined stand-in for a new Jack Ryan-esque action series. Basically, if you're looking for fast-paced, brutally efficient action heroes with steely eyes and nothing to lose, American Assassins is a good start.
American Assassins premieres in theaters on September 15.