'Blade Runner 2049' Director Says Chance of Success Is 'Narrow'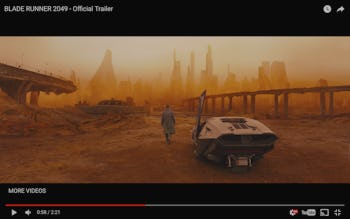 Warner Bros. Pictures
We don't need to pity Denis Villeneuve — in directing a sequel to 1982's fantastic sci-fi classic Blade Runner, he's got pretty much the best job ever. Still, it's not easy to follow a director as famous as Ridley Scott or try to live up to the glory of the original film. Villeneuve understands that the expectations for Blade Runner 2049 are extremely high; in fact, he told The Hollywood Reporter that he probably won't meet them.
Villeneuve said that he and the movie's star, Ryan Gosling — playing Officer K, who may be a replicant — share this contented pessimism.
"Ryan Gosling and I made peace with the idea that the chances of success were very narrow," he said to THR. "I came on board because the script was very strong. But no matter what you do, no matter how good what you're doing is, the film will always be compared to the first, which is a masterpiece. So I made peace with that."
Equipped with this attitude, Villeneuve is at ease: "When you make peace with that, you are free," he said.
Well, that's great for him, but that won't make it any easier for fans to come to terms with his failure.
In all likelihood, Villeneuve has been putting forth every effort to make a stellar movie. Still, it isn't exactly comforting to hear that he's pretty sure he's not going to succeed.
Or maybe Villeneuve has just brilliantly lowered all of our expectations, and we'll go into Blade Runner 2049 expecting the worst, only to have our wildest dreams satisfied. Only time (four months, to be exact) will tell.
Blade Runner 2049 will premiere in theaters on October 6, 2017.