Google's Set to Disrupt Another Sector: The Job Hunt
This could be the beginning of the end for traditional jobs sites.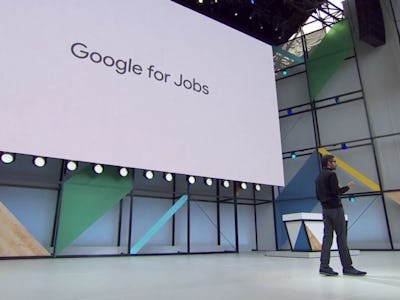 At this year's I/O developer conference, Google announced a number of new programs aimed at making it easier to find a job in a fractured online market. The project is part jobs-site aggregator, part Google search, and it could make the labor-intensive process of finding new work so easy it fundamentally changes the way employers and employees behave.
This week, Google released some of it's most useful features for the first time ever, announcing on its blog that effective immediately, English-speaking users will be able to search "jobs near me," "tech jobs," or similar job-seeking queries, and receive a highly detailed, personally tailored result in return. The features exist on both desktop and mobile platforms.
The new Google feature will pull from the biggest jobs-listing sites on the internet, including LinkedIn, Monster, WayUp, DirectEmployers, CareerBuilder, Glassdoor, and Facebook.
By far the most disruptive part, however, is the jobs-flagging code Google has released for employers. Once this code becomes commonplace and widely used by webmasters, the need for sites like Monster could go way down. Why use a third party site to find new talent when you can simply post available jobs to your own company website, and make them "discoverable" by tagging them with indexing code for the most widely used search engine in the world?
Another interesting wrinkle arises from Google's overall omniscience; more than LinkedIn or any other social network, Google knows people and their online habits through its invasive user tracking system. Given its current obsession with machine-learning, Google could provide much more insightful jobs-suggestion than more isolated platforms like WayUp. It even provides approximate commute times from your searching locations to the listed office address.
One thing that Google's new jobs search does not do is bring certain important metrics to the fore, most notably salary. There is likely some tension pulling and listing content from sites that monetize that very same content, so keeping certain important pieces of information behind a click-through could be about helping to prevent a legal fight.
Of course, that detente will only last until Google's real pitch, to start using its own jobs-listing code instead, begins to take hold with a large proportion of the hiring sector. At that point, the traditional jobs search websites could find themselves without nearly as strong a pitch to jobs-listers or seekers.
It's just another vital part of the usefulness of the internet that could get gobbled up by the online amoeba that is Google.