NASA Wants to Make Your 2017 Total Solar Eclipse Party Super Cool
Have fun and wear protection.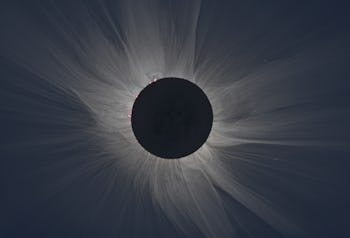 The National Aeronautics and Space Administration wants you to party on August 21, 2017.
The space agency acknowledges that we all prefer to party in different ways, so it produced some "Eclipse Party" materials that generalize to diverse audiences, whether you're organizing a museum event or simply want to acknowledge this summer's fascinating and rare total solar eclipse with your friends while playing bocce ball and drinking punch.
Here's how to party, with input from both Inverse and NASA:
1. Solar Shades
As is instinctual in most of us, you might want to steal a glance at the eclipsing sun. Rather than simply glancing, you can watch it directly — but only if you're wearing NASA-approved solar glasses, which filter out damaging solar radiation. We discuss solar shades here. At an economical price, they could make for some useful party favors.
2. NASA EDGE Megacast
Beginning at 11:45 a.m. Eastern on August 21, 2017, NASA will offer a free live webcast of all things eclipse from Carbondale, Illinois, the spot in North America where the moon will block out the sun for the longest amount of time: 2 minutes and 40 seconds. NASA will show the eclipse in three wavelengths of light, provide insight from experts, and show the launch of an eclipse-seeking weather balloon from a stadium in Carbondale. The NASA EDGE broadcast will be available on YouTube, Facebook, and Ustream.
3. Eclipse Swag
Download NASA-made eclipse posters, maps, and art here.
4. Eclipse Pinhole Projector
Although solar shades will do the trick, the absolute safest way to watch the sun being overtaken by the moon is to build your very own pinhole projector, which allows you to project this cosmic phenomenon onto the ground. It'll only take you a few minutes to make, and you probably won't have to buy anything at all, because it consists entirely of paper, tape, and aluminum foil. Inverse details the four-step process here.
5. Vital Interactive Map
NASA's interactive eclipse map just might be the most important element of your eclipse party. The map allows you to pinpoint your precise location and then provides location-based eclipse information, so you and your guests know when the event begins.
6. Eclipse Party Invitations
NASA made a variety of sweet party fliers and invitations to choose from, so your friends won't miss your eclipse party — as if there's something more exciting happening on August 21, 2017.