'Happy Death Day' Is 'Groundhog Day,' But With Murder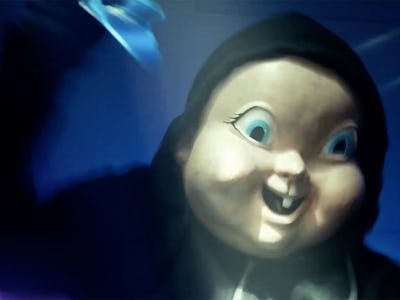 Blumhouse Productions
While Bill Murray had it hard living the same day over and over again, at least he didn't die at the end of every day. That's what Tree Gelbman (Jessica Rothe) is up against in the first official trailer for Happy Death Day when she's killed by a masked person and wakes up in the same position she found herself in the morning before. Naturally, she's a little freaked out.
In the trailer, Tree (yes, her name is Tree) wakes up after a night of drinking and partying in someone else's bed and makes her way back to her sorority house. That night, she's getting ready for another party and is killed by a black-clad figure in a creepy blue-eyed baby mask. Stabbed with a broken bottle, Tree wakes up in the same person's bed and has to live the same day over again.
While the trailer doesn't hint at exactly how many times Tree gets murdered throughout the film, it seems it's enough times to get creative about finding out who her killer is. Tree eventually arms herself and enlists the help of a newly acquired friend, going out of her way to seek revenge for her own death.
She eventually makes a list of suspects and, upon a visit to the hospital, realizes that her body is showing signs of extreme trauma (the kind that should have killed her according to a doctor). Things get more desperate, but the hope is that Tree will solve her own murder before it's too late and return to her normal life.
Happy Death Day premieres in theaters on October 13.