George R. R. Martin Doesn't See Death Talk as "Any Sort Of Compliment"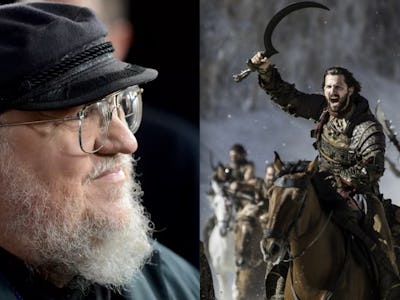 Getty Images / Kevin Winter and HBO
Game of Thrones author George R. R. Martin knows how much people discuss when he's going to die, and he's not thrilled about it. When a fan tried to frame the speculation in a positive light on the author's website on Monday, Martin was unappreciative.
"I'm sure in some ways you can see it as sort of a compliment that the demand for your book has lead to this sort of insanity from fans," the user wrote.
"I don't see speculation about the possibility of my death as any sort of compliment, no," was Martin's dry response.
Some people have speculated that Martin might not live to finish out the two remaining books in the series. He's been working on the sixth volume, The Winds of Winter, since the fifth came out in 2011, and then there's still the final book, A Dream of Spring. Martin is only 68 — that's far from ancient — but fans point to his supposedly poor health as cause for concern.
"Let's be honest, Martin isn't in the healthiest of situations," reads one Quora post. A comment cites his "age" and "physical stature" as reasons why he won't finish the final novel. Many have theorized that he might have diabetes, apparently just because he's overweight. A cheeky site called "Is George R. R. Martin Dead?" even posts odds on whether or not he'll make through the series (the probability of his finishing book seven is currently listed at 4 in 10).
But Martin is much more optimistic than his readers. After his caustic response to the online fan, he wrote, "My own hope is to live another thirty years and write thirty more books."
Thirty more books would sure be fantastic.
We really need to give Martin a break; writing a long, complicated fantasy novel is no easy task. He's an author, but he's also a person, and he has other obligations besides satisfying our fiction cravings.
When fans are so excitable that they hear about the death of Beatles producer George Martin and assume it's their beloved author, the intensity's gone a bit too far.