Daniel Radcliffe Gets Absolutely Wrecked by Nature in New Movie
Daniel Radcliffe and his friends get more than they bargained for.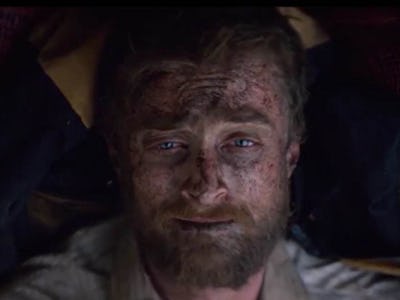 Umbrella Entertainment
Daniel Radcliffe (Harry Potter) stars as Yossi Ghinsberg, a 22-year-old Israeli backpacker lost in the Bolivian rainforest, in the upcoming Jungle. The film, based on an all-too-real story of a group of students trusting a fraudulent guide to lead them through the jungle in the 1980s, just got its first trailer, which mostly consists of Radcliffe being beaten senseless by rivers, trees, and lots of mud.
Radcliffe's character, Yossi, makes his way to Bolivia to find adventure before settling down into what he terms a boring life of getting married, having kids, and getting a 9 to 5 job. But, if the trailer is anything to go by, he gets a hell of a lot more than he originally bargained for when he and his friends hire a deceptive trail guide and trust the man to lead them through the Bolivian jungle.
"Perfectly balanced," the guide tells the boys of the jungle. "The problem is us. We're the cancer.
Then the guide walks away and leaves the friends to fend for themselves.
The film's official synopsis is:
In the early 1980s, 22-year-old Israeli backpacker Yossi Ghinsberg and two friends – Swiss teacher Marcus Stamm and American photographer Kevin Gale – set off from the Bolivian city of La Paz on what was supposed to be the adventure of a lifetime. Leading the way into the uncharted Amazon was an Austrian expat named Karl Ruprechter, who had met the friends just days before and claimed to be familiar with the region. But their dream trip soon turned into a wilderness nightmare from which not all of the men returned. Adapting Ghinsberg's acclaimed memoir, Greg McLean moves beyond his previous horror fare to take on an altogether different kind of fear in Jungle, all the more potent for being true. Daniel Radcliffe continues pushing his post-Potter career to the extreme, ably supported by Alex Russell (fellow MIFF Premiere Fund title Cut Snake, MIFF 2014), Joel Jackson (Peter Allen: Not the Boy Next Door) and Thomas Kretschmann (Avengers: Age of Ultron, Dracula).
Jungle is expected to premiere in theaters sometime in 2017.