Pretty Much Everybody Hates the Tupac Biopic 'All Eyez on Me'
 "A soulless, selectively truthful scraping of the story of the pioneering rap genius."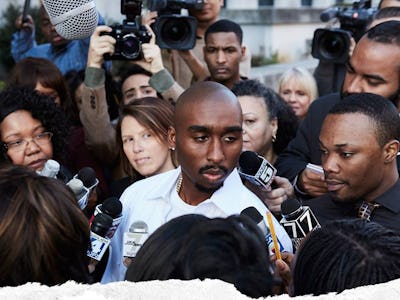 Tupac Shakur is a legendary musician, and it's about time his story — his rise to the top and tragic, untimely death — get the telling it deserves. But the early word is that the new biopic about Tupac, All Eyez on Me, is not that telling.
Harsh early reviews of the controversial biopic are trickling in, compounding the bad buzz around a movie that was already saddled with a lawsuit-heavy production history and scorching criticism from the Oscar-nominated director who abandoned it. Meanwhile, the studio behind the film isn't doing much to promote it, which is usually a sign they have a dud on their hands. Whatever conspiracy theories about Tupac are out there, it seems pretty clear that All Eyez on Me is dead on arrival.
All Eyez on Me, which finally hits theaters in the United States on June 16 after more than six years of production woes, was at one point supposed to be helmed by director John Singleton, who made Boyz n the Hood and worked with Tupac himself. He signed up to write, direct, and produce the movie in 2013 but left due to serious creative differences in 2015.
"I told the company if y'all muthafuckas want to do this, you gotta get the fuck out my face and let me do this movie," Singleton told HipHopDX last year. That's not what happened. "I knew they weren't going to make a good movie at all and they didn't," Singleton continued.
"I haven't watched it and I refuse to watch it," Singleton added, explaining that he hasn't even viewed a trailer for the film. "I know that they fucked it up so I'm not even trying to give it any attention."
They did indeed fuck it up, according to some early reviews out of Australia. The studio offered extremely limited press screenings, which is usually what happens when they want to prevent critics from letting the public know that their bad movie is, in fact, bad. Those who have seen it, like one from Herald Sun, called it a "soulless, selectively truthful scraping of the story of the pioneering rap genius." They go on:
This sloppy, spirit-sapping marathon gets increasingly abysmal as it goes along, giving Naomi Watts' Diana a serious rival for worst biopic of a pop-cultural megastar in living memory.
The Sydney Morning Herald also dinged the movie for largely omitting important, less-savory aspects of Tupac's life: "An awkward framing device has Shakur telling his story to an interviewer while in prison, but less emphasis is given to the fact that he was doing time for sexual assault."
Early reviews in the United States haven't been much kinder. Newsday called it "a badly botched biopic that won't earn Shakur any new fans and will disappoint the ones he has."
"All Eyez on Me" is at once too detailed and too simplistic, filled with didactic speeches yet bogged down by soapy drama. Add to this the often amateurish acting and clunky script, and what you have is truly unfortunate.
Meanwhile, the actress who plays Jada Pinkett in the film, Kat Graham, is miffed at the controversy, especially Singleton's ire. Speaking to Vanity Fair, Graham discussed how hard it is to get a black biopic made, suggesting that Singleton's criticism was doing more harm than good. "We deserve to have our stories told," she said. "We should all be supporting each other."
All Eyez on Me will open on June 16.