This Streaming Startup Wants to Clean Up 'Game of Thrones' and Netflix
VidAngel is fighting Disney. Now, it wants to filter HBO and Netflix.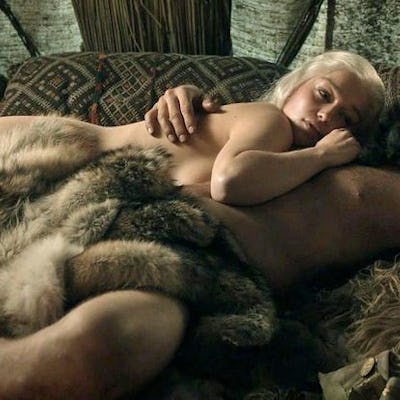 VidAngel is nothing if not audacious. Just days after tangling with Disney in a high-stakes courtroom battle over transmitting cleaned-up versions of Hollywood movies over the internet, the Utah-based startup will announce a new service that does the same for the programming put out by Netflix and other streaming media giants.
The company, founded in 2013, operated for several years as a family-friendly filter for largely conservative audiences, tagging and removing the risqué elements — mostly language, nudity, and violence — from major motion pictures. Denied a license by major studios, they employed an end-around system in which they bought up millions of DVDs and then "resold" the sanitized versions via the internet. They had reached a million users, and made millions of dollars from loyal customers. But momentum was halted last summer when several studios, including Disney, Warner Bros., and Fox, sued under the Digital Millennium Copyright Act, leading to the service's suspension. That case is still pending, but VidAngel is not waiting for intervention divine or judicial, plugging ahead with a more high-tech version of the service now focused on the streaming giants.
While the company has spent the last several months building its library of original clean content, focused largely on PG-rated stand-up comedy, this plan is crucial to its future.
On Monday, ahead of the planned announcement at a special shareholder meeting in Provo, VidAngel co-founder and CEO Neal Harmon explained to Inverse how the new technology works — and why they think it stands a better chance of avoiding the same legal hurdles.
How VidAngel 2.0 Works
"It all happens through the VidAngel app, which interacts with the major streaming services on the user's behalf once they've entered their log-in credentials to those services," Harmon said. "VidAngel securely becomes you in the cloud. Then all of your Amazon, Netflix, or HBO content becomes available within the VidAngel app. For example, if you wanted to watch Stranger Things, Netflix would stream Stranger Things to VidAngel, and then VidAngel would send to your device a filtered version of that stream based on your preferences."
In effect, it's largely the same service that was shut down, though it costs $7.99 a month instead of a per-title charge. Audiences can pick and choose what they don't want to see or hear, and then are shown versions of programs that have had key words, images, or even whole scenes removed. But the technology behind the new system gives Harmon confidence that it will survive any legal challenges. Instead of accessing DVDs and retransmitting their altered content, VidAngel says it is simply acting on behalf of the user in accessing the content from Netflix, HBO, and Amazon's servers.
"The difference is that we don't decrypt the content," Harmon insisted. "What we do is we become the screen on the virtual computer in the cloud. VidAngel becomes the screen and receives the content after the Netflix player has decrypted it with the authorized keys."
VidAngel plans on asking the District Court that handed down the injunction to clarify whether the new service violates that suspension. That will help determine whether they can filter and rebroadcast, via this new tech, movies and shows offered by Amazon, Netflix, and HBO Go.
The hope, of course, is that it doesn't trip over the ban laid down by the injunction, both to expand the catalog and because it'll allow VidAngel to offer higher quality video. "There are all kinds of technological limitations that are only possible when you decrypt content," Harmon said. "And so, we will continue to litigate that question so that we have true access to the content and we don't just have to proxy someone's desktop stream to them."
Harmon says that the new technology was in the works before the injunction, but its development was sped up after the legal trouble began. There is a large, ongoing behind-the-scenes effort to tag and filter as much streaming content as possible, powered in part by a loyal audience that evidently doesn't want to watch profanity, but will suffer through it to protect future viewers from such a scourge. There are three levels of taggers and reviewers, and only the highest-level get paid for the work.
Will It Last?
No matter how many hours that volunteers are willing to identify and tag smut, VidAngel's filtering future is in the hands of corporate executives. In many ways, Netflix has become the most powerful company in Hollywood, and Amazon has the clout to reshape economies in ways that no movie studio could ever imagine. And while Harmon believes VidAngel's new approach will stand up to legal challenges, he's also hoping to avoid the same kind of entanglements that brought down the initial iteration. With that in mind, he says he's had conversations with executives at both companies, and feels positive about the interactions.
"We have talked to Netflix and to Amazon about the technology, and we explained in detail how the system works and expressed a desire to partner if they're able," he said. "But we also communicated to them that our understanding of their contracts is that they're not permitted to authorize filtering on their systems and we were just acting on behalf of the user. The gentleman that I've been talking to about this at Netflix was excited about the technology. And the lady that I talked to at Amazon, she loved the technology. There hasn't been any opposition to the technology so far."
When reached for comment, a representative for Netflix said the company "has not endorsed or approved the VidAngel technology."
There is evidence that their idea, in fact, is starting to be used against them. Filmmakers have long protested against filtering as an affront to their artistry, and those accusations were raised again last week when Sony announced that it would include "clean" versions of certain movies on home video platforms.
Seth Rogen's appropriately profanity-tinged appeal did nothing to scuttle Sony's plans, and it would figure that the studios would want to put VidAngel — now a competitor in sanitizing — out of business. For now, though, Harmon says he's excite by what he calls a "sea change" in Hollywood attitudes to sanitized content.
"A rising tide lifts all boats," Harmon says. "We actually invited Sony to our event so that we can congratulate them on what they've done and to encourage all of our customers to go rent and purchase those movies."
The Future
Harmon and his brothers got their start in marketing, and VidAngel's commercials have always been slick. The company's newest ad, made to announce the new service, is no exception. But it does contain a new wrinkle, with an appeal aimed at progressives more than the traditional Christian conservative audience. It begins by highlighting sexism in Hollywood — a big problem, no doubt — and the imbalance in nudity between men and women. It also promises to filter out emotional triggers, a term that conservatives have used regularly in lampooning liberals for years.
This change in tact is no accident. VidAngel has long been supported by conservative patrons, and Republican legislators have tried to support it with tweaks to the Family Movies Act, the law that VidAngel claims should protect it from legal battles. But market studies suggest that there are dollars to be won from liberals, as well.
"It's traditionally been considered for a conservative, religious audience, but you've got all kinds of reasons that people want to filter content and that video reflects many of the other reasons," Harmon said. "There's no one-size-fits-all approach. There might be one person who all that they want to do, because it's traumatic to see a trigger scene, is just to filter a rape scene from the movie. Or an ex-convict wants to just filter one particular part of the content that will evoke emotions for them that they don't want to experience or dig up."
Expanding the base could not only help VidAngel increase its business, but also build more political and popular support for its service. After one of the judges of the Ninth Circuit was caught on a hot microphone suggesting this would be an easy case — and not in VidAngel's favor — Harmon acknowledges that their prospects in this round of litigation do not seem promising.
"We don't have extremely optimistic outlook on how this one will turn out, but if they rule against us, we'll petition to the Supreme Court," Harmon said. "We expected this whole process to take upwards of three to five years, and we're a year into it."
And that's just for the case with traditional Hollywood. How Netflix and Amazon will respond to the new VidAngel service remains to be seen.
"There's no streaming license that exists that allows for filtering. So, they either take a friendly position where they sit and watch, or they could take an adversarial position if they decide that they're concerned about it. Our conversations have been friendly, to date."