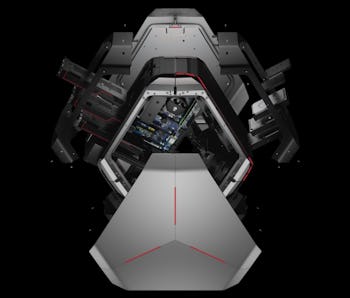 Gaming
Alienware Debuts New Versions of Ultra-Powerful Area-51 Desktop
They are things of beauty.
Alienware, Twitter user: @Alienware
The highly-regarded PC gaming tech company Alienware announced two new versions of its powerful Area-51 desktop computer at E3 2017 on Monday. Gamers anxious for more processing power to get a better megatasking experience are in for a big treat.
Area-51 has traditionally been one of Alienware's best computers; its models have made history: Area-51m was the only laptop strong enough to work with almost any video game upon its 2002 release. The desktop version has gone through three iterations — the latest was 2014's Area-51 R2 — but now there are two new and excellent editions heading your way.
The "Threadripper," coming July 27, has 16 physical cores, 32 logical cores, and an extremely advanced processor made "for diehard performance enthusiasts demanding the absolute best gaming experience, and for gamers who create, using resource intensive applications," as described in a press release. It should be great for gamers who want to work on many complex tasks at once.
Plus it looks freaking dope:
Then there's the new Area-51 with Intel Core X-series processors, coming August 22, which will be ideal for the truly intense megataskers. Whereas the Threadripper is for "today's most demanding PC gaming enthusiast," this "extreme" computer is best for "gamers who create and creators who game." It'll be useful if you're running applications requiring an operating speed that can be boosted up to 4.5GHz.
This one has an impressive power supply, too, with the potential for 1500W and an 80 Plus Gold certification, so you know it's pretty darn efficient.
Both computers are designed to work well with VR, 4k, or 8k displays.
Alienware machines have always been at the top of the line, and the company has just stepped up its game even a few notches further. PC gamers, rejoice.