Why Google Maps Has Rainbows This Month: It's a Matter of Pride
A colorful way to help you get around town during Pride Month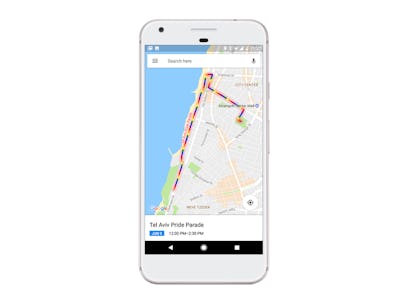 Google
It's Pride Month! Communities around the world are spending the month of June celebrating the lives and culture of the LGBTQ community. Google has decided to make it a bit easier to find out where your town's parades and events will be held over the next few weeks through this simple-yet-colorful new feature on your smartphone's Google Maps app.
If you live in one of 35 covered cities and have pulled up Google Maps recently, you might notice rainbow bands covering up some streets on the map. This is the route of a Pride Parade set to descend on your town. Tapping the rainbow will provide more information about what the parade entails, when it will take place, how bad traffic might be, and other details.
In addition, special Pride icons on the app will designate events outside of parades, and tapping those will provide more details on what to expect from those celebrations as well.
There are certainly several different ways to celebrate Pride, and if a parade or event isn't really your thing (maybe it's the Babadook?) or you're all partied out for the time being, Google Maps will help navigate you to your destination through reroutes that will limit how much traffic you'll have to endure.
The new change only applies to 35 different cities around the world, but they are among the most populous spaces in the world, so chances are more than a few of you will find the new Maps feature incredibly useful.
Happy Pride!