Italian Astronaut Reads 'Hitchhiker's Guide,' Testifies to Importance of Space Towels
An Italian astronaut on the importance of towels.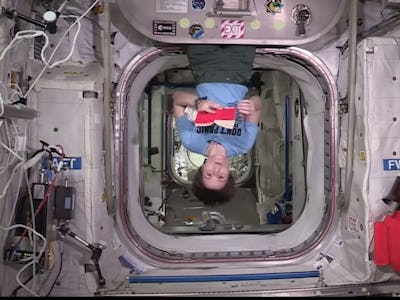 Samantha Cristoforetti is a frood who knows where her towel is. The Italian European Space Agency astronaut currently residing on the International Space Station brought the first espresso machine to space along with some inspirational reading in the form of "Hitchhiker's Guide to the Galaxy," the Douglas Adams sci-fi classic. To celebrate Towel Day, the annual celebration of all thing Adams, Cristoforetti read the classic passage describing the necessity of interstellar terry cloth.
Then Scott Kelly, the American pilot (and twin), broke out his towel to scrub up some floating globules of moisture. Consider it proof that you can buy the "most massively useful thing an interstellar hitchhiker can have" at Bed Bath & Beyond.