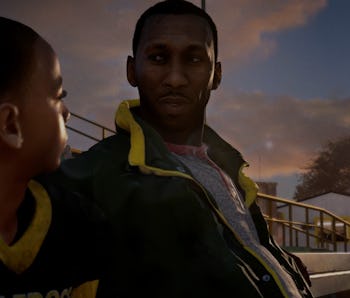 Gaming
Madden Franchise Gets a Story Mode With 'Madden NFL 18: Longshot'
Mahershala Ali plays another inspirational mentor figure.
'Madden NFL 18: Longshot'
Electronic Arts has announced Madden NFL's first-ever cinematic story mode in Madden NFL 18, called "Longshot." Powered by Frostbite with a star-studded cast, the story will allow players to "lead forgotten prospect, Devin Wade on the pursuit to hear his name called on NFL Draft day."
If the trailer is any indication, bringing cinematic storytelling to the franchise could make Madden NFL 2017 the best entry in years.
The first cinematic trailer kicked off EA's live stage at EA Play 2017. Football is everything to the protagonist, as portrayed by JR Lemon. Mahershala Ali plays Cutter Wade, Devin's father, who shares a love of the game. Colt Cruise (Scott Porter) is another young player vying for a spot in the NFL who plays a prominent role. And it wouldn't be a football game without a role for one of the all-time greats: Dan Marino plays himself and mentors Devin Wade on his journey.
Check out the cinematic trailer right here:
Here's an official synopsis:
"After three years away from the game, play as former five-star high school quarterback, Devin Wade as he takes one last shot to hear his name called on NFL Draft day."
The Madden NFL franchise has dominated the sub-genre of sports gaming since the first game was released in 1988. Always at the forefront of sports gaming innovation, the franchise is now taking a leap forward by including "Longshot" as part of the experience.
Madden NFL 18 will be released on August 25, 2017.