Star Wars Battlefront 2 Leaks Ahead of EA Play, Looks Amazing
Rey and Darth Maul go nuts on Naboo.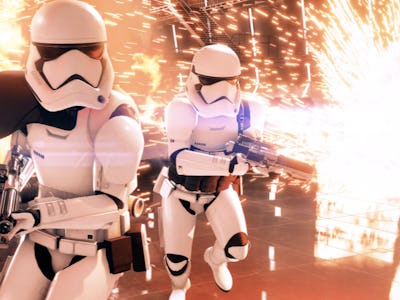 EA
On Saturday morning, a dozen minutes of amazing-looking footage of EA's Star Wars Battlefront 2 leaked several hours ahead of its scheduled press conference at E3.
The 12 minutes of gameplay — uploaded to Vimeo and Youtube — appears to be of sponsored EA footage, featuring YouTuber NukemDukem previewing the game.
But a leak is a leak, and the original video — reportedly uploaded to Youtube by a user named Mjolnir — couldn't be found at the time of writing, although copy videos were quickly going up.
Luckily, the gameplay footage is still on Vimeo, where anyone curious can get a decent look at Battlefront 2's fast paced action as Darth Maul and Rey destroy everything in their path.
Early reactions on Twitter voiced some excitement for the new game based on what they'd seen.
For more on the Battlefront 2 and anything else EA has up its sleeve, the EA Play press conference starts at 3 p.m. Eastern time and will be streamed live.
You can check out the leaked footage of Battlefront 2 here: