British Superhero Show "Misfits" is Being Remade for American TV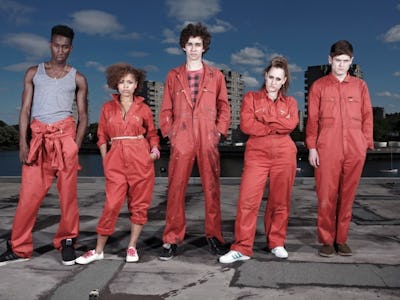 Clerkenwell Films
It looks like Misfits, the British cult superhero show, is coming to the United States for a reboot. The TV network Freeform announced that they were developing the series last year, but now they've cast it and given it a pilot order, so things are nearly official.
Diane Ruggiero-Wright — who, with credits like iZombie and Veronica Mars, is certainly good at offbeat, edgy youth shows — wrote the pilot and is the showrunner. She'll produce alongside Fake Empire Productions (Gossip Girl, The Carrie Diaries) and the original series' Howard Overman and Murray Ferguson.
They've already got an amazing cast, with four of the five leads nailed down: Allie MacDonald (Orphan Black) as the rowdy, quick-tempered Kelly, Tre Hall (Rebel) as the arrogant jock Curtis, Ashleigh LaThrop (Sirens) as the spoiled, fun-loving Alicia, and Jake Cannavale (Nurse Jackie) as the vain swindler Nathan. Simon, the shy bullying victim, hasn't yet been cast.
In the original show — which premiered in 2009 and lasted for five seasons — these youths meet while doing community service together. An electrical storm injects them with superhero powers, including invisibility, telepathy, enhanced sexual energy, and the ability to turn back time. It's a kind of like a higher-stakes, supernatural, British Breakfast Club.
We'll see how much Freeform changes the storyline. They're describing the reboot as follows:
"A drama based on a hit British series, a group of twentysomethings are exposed to a mysterious chemical and subsequently develop peculiar superpowers."
So the basic premise, at least, sounds the same. With this awesome crew behind it, the show's got a lot of promise; hopefully it'll get officially picked up soon.
Misfits does not yet have a premiere date.