'Fantastic Beasts' Sequels Will Include Hogwarts Flashbacks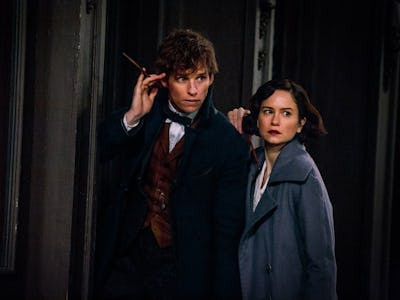 Warner bros
The Harry Potter spinoff franchise Fantastic Beasts and Where to Find Them initially seemed like it would only connect to the Potter series through Dumbledore. But thanks to a new casting call, it's looking like the two stories will also share a setting — because early 1900s era Hogwarts will appear in flashbacks.
According to Pottermore, a casting call has been announced for young actors to play teenage versions of Newt Scamander, Leta Lestrange, Gellert Grindelwald and Albus Dumbledore.
"An open casting call has gone out for three actors between the ages of 13 and 16 to play young versions of Newt, Leta, and another character called Sebastian," writes Pottermore. "They are also looking for actors between 16 and 18 to portray both Gellert Grindelwald and Albus Dumbledore as teenagers."
Leta Lestrange, played by Zoe Kravitz, appeared only briefly in Fantastic Beasts and Where to Find Them in a photo. It was mentioned that Newt and Leta were close in their youth, but they had a mysterious falling out which causes Newt to sadly ponder her photograph. Newt's new friend Queenie Goldstein, who can read people's goals and emotions, discerns that Leta was a "taker" in their relationship, and Newt needed a "giver."
Since Leta Lestrange is, of course, Bellatrix Lestrange's ancestor, it's reasonable to assume she was a Slytherin in her Hogwarts days. Newt was a Hufflepuff, and he got kicked out of school at the age of fifteen or sixteen. He took the fall for Leta's wrongdoing. Judging by the actor's ages in the casting call, it looks like the Fantastic Beasts sequels intend to show this event onscreen.
The call for a teen Dumbledore and Grindelwald means that Dumbledore might get to kiss another young man onscreen, and the events leading up to his sister Ariana's tragic death could be depicted. Since Jude Law is already playing one version of young Dumbledore, this means the Fantastic Beasts sequels will have substantial flashbacks.
The second installment of Fantastic Beasts and Where to Find Them will hit theaters November 16, 2018.