Relax, You Can Trust the New Guy on 'Fear the Walking Dead'
Sam Underwood talks to Inverse about his new stranger, Jake Otto, in the AMC zombie series.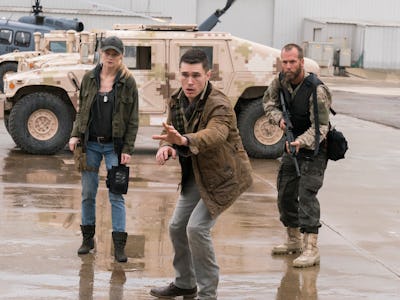 AMC
In the zombie apocalypse: trust no one. For seven seasons of AMC's The Walking Dead and two seasons of its spin-off prequel Fear the Walking Dead, this rule has proved to be one of the most important survival tactics anyone can learn. So what should zombie fans make of the handsome and earnest Jake Otto, a new character in Fear the Walking Dead who may actually be as good as he seems? Ask Sam Underwood, the British actor best known for playing twins on The Following, and he assures that Jake Otto is, in fact, legit.
"I think Jake is one of the most sincere, earnest guys," Underwood tells Inverse in a phone interview. "He's a selfless person. He makes sure he's taking everyone and their best interests into account. Obviously whenever [a character like mine] happens there's always guessing whether or not that's going to be true. For the most part, from the things I can say, yes, Jake is one of the most trustworthy characters to come into the show."
That's a tall statement, considering Fear the Walking Dead is starting to show its age. In the show's third season premiere which aired this week, viewers were introduced to Jake and Troy Otto, two brothers raised in their father's ranch and doomsday camp. But while Jake appears to be the handsome diplomat, the hot temper boiling in his misfit brother Troy (played by Daniel Sharman) can only spell trouble.
"There's definitely this idea of Of Mice and Men," Underwood says in regards to his character's relationship with his brother. "Not a direct parallel, but you've got two brothers on this journey and one of them is much less aware of what's right and wrong. When you have an apocalyptic world, lines get blurry and the rules change. We don't know what the rules are anymore."
And that's the sort of world Jake thinks the temperamental, volatile Troy could only flourish in. "That seems more second nature to him than what it does with Jake," Underwood says. Fans have yet to learn more about the Ottos in the series, but Underwood opened up about Jake Otto's backstory before the apocalypse.
"Jake left the militia environment he was brought up in. He went to the east coast and studied constitutional law," Underwood explains. "He's been in a different cultural environment for a long time. He talks differently than his brother." While it may or may not be explored in the show, Underwood says Jake returned home less than a year before the apocalypse. He also had a different childhood than his brother, in spite of living under the same father. "They have different mothers. Troy's mother was abusive to him as a child. My mother died at an early age. So you have two different upbringings from the same father. They share a lot of traits, but [they are] the complete opposite in terms of approach to problem-solving in the world."
But while there is a tension, Underwood says Jake's feelings come from a real place of love. "I hope this doesn't get lost in translation to the show, but these brothers love each other to a fault," he says. "Dan Sharman and I talk about this on a regular basis: The only reason there is tension is because they love each other. Jake has so often put himself in situations to protect Troy. In Episode 3, when Troy is gardening and Jake comes up, there are moments that Jake wants to remind Troy he is there for him."
There is also a functional reason, according to Underwood, for Jake to get in sync with Troy. "Eventually, those two are gonna be leading this community. So there has to be trust, otherwise, it's not going to work out. Like any sibling relationship, it all comes to a place of love, or at least you hope."
The majority of the Otto family's origins came from co-showrunner David Ericksen, who informed Underwood of his backstory just a day before shooting began. But Underwood, who grew up in Surrey located 23 miles outside London, performed extensive research into the life of a survivalist. "It was a culture shock to me," he tells Inverse about his binge-watching of Doomsday Preppers and survival videos on YouTube. "People living like this on a day to day basis, as if an apocalypse is happening now, they do believe there is a threat from 'the other' and the threat is happening now and they have to live this way in order to survive. It blows my mind."
Underwood found the research compelling, but he was able to keep distance due to his moral objections. "Quite honestly, it is the antithesis of my personal, political, and moral and ethical ideals," he says. But it helped that his Jake Otto feels like an outsider at home anyway. "To jump into a community and delve into that mindset, whilst holding onto Jake who is more like me and has a sense of ideals instead of just aggression, it was a delicious challenge."
So fans of Fear the Walking Dead can trust Jake, but will the Clarks who just lost someone very important to them? Underwood says they will, but not without difficulty. "The Clarks bring a different energy to how they survive than what has been built in this community protected by a militaristic mindset," he says. "The question that is going to come out of Jake is leadership. This show has testosterone aggression from a male-dominated society and two kick-ass women driving the story. Jake, at some point, finds kindred spirits [with them]. We'll see whether that comes to fruition or is a lost cause."
Fear the Walking Dead airs Sundays at 9 p.m. on AMC.