Trump Announces Plan to Privatize 'Antiquated' Air Traffic Control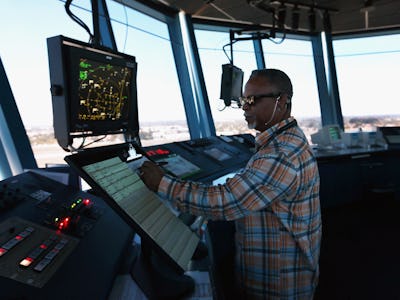 Getty Images / Joe Raedle
President Donald Trump held a press briefing on Monday to unveil his plan to remove the responsibilities of air traffic control from the Federal Aviation Administration — and put them directly into the hands of the airline industry.
Right now, the FAA's air traffic controllers manage the 7,000 aircraft in American airspace at any given moment. That army of personnel is largely invisible, even in those giant towers overlook every airport. But they are, for the most part, responsible for getting planes up and back down safely.
To do this high-stress job, air traffic controllers currently rely on basic World War II-era radar technology and passing physical strips of paper around like it's high school homeroom. While the FAA has been working for years to update its system, critics say the effort to modernize isn't happening fast enough.
Trump's plan would created a private, non-profit corporation to run the air traffic control spots already spread across the country. Similar to Canada's system, it would allow the FAA some oversight, but the real decisions would be made by a board of representatives selected by the major airlines themselves.
See also: Shockingly, Airline Satisfaction is on the Rise
Trump, who framed his proposal against the backdrop of an airline industry he called "horrible," "stuck, painfully, in the past," "ancient," "broken," and "antiquated," seems to have a lot of support within the industry. Airlines appear to be ready to take the lead on air traffic control and the union of air traffic controllers is reportedly supportive of privatization, too. Trump's personal pilot, "a real expert" and "smart guy," reportedly agrees with the need for a drastic revamp, too.
Critics fear that an overhaul will just cause more problems and confusion, and others are reluctant to give airlines control over this essential safety service. It's unclear how the administration plans to address these concerns.
The new plan hasn't totally taken flight yet. Congress is set to discuss the plan this week and it's likely to be lumped in with upcoming legislation reauthorizing the FAA.