Stephen King's Domestic Terror Novel 'Mr. Mercedes' Coming to TV
How much do you trust the king of horror?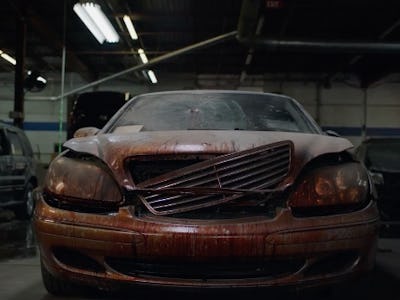 Audience, AT&T
In addition to being one of the most prolific and unique writers in contemporary fiction, Stephen King is unique in his ability to check himself. Though he initially defended his violent writing during the rise of school shootings, after listening to concerned readers and doing a bit of soul-searching, he took his story Rage off the market, saying publicly that he had reacted too quickly to critics. Though he maintained that we must keep a separation between violent fiction and actual, real-life violence, King said in 2013 that the risk of Rage, which tells the story of a school shooter, inspiring any kids like the protagonist was too great. Now that his novel Mr. Mercedes is coming to television a few short weeks after domestic terror attacks in Manchester, King may have to revisit his stance on violence.
That's not to say Mr. Mercedes, or even Rage is a harmful presence in society. One could argue that any violent fiction is a wonky choice for readers already beset by a cruel world, but King typically does a fantastic job of separating villains from heroes. After all, his multiverse theory argues that all cruel people are subscribing to the concept that our universe is random, and their inevitable conclusion is that life has no purpose or worth. By that logic, the kid in Rage and the villain Mr. Mercedes, who crushes people in an unemployment line under his car gleefully, and then taunts King's detective protagonist about it, aren't characters we're supposed to revere.
Controversy may fly right by Mr. Mercedes though, given that it's premiering exclusively on Audience, AT&T's digital network. Also, shows depicting terrorism continue to attract viewers despite real world connections — Homeland, The Americans, Madam Secretary, and Quantico remain popular — but Mr. Mercedes will tell a slightly different story. The villain in King's novel isn't motivated by extremist religious views or racism; Brady Hartsfield (we learn in the novel's beginning who he is, so his identity isn't a spoiler) has been victimized all his life. He's raped by his mother as a child, and in his adulthood has become so emotionally dependent on her that he feels he can only find attention and freedom through horrific acts of violence.
Showrunner David E. Kelley (Ally McBeal, The Practice, Boston Legal) says the appeal in Mr. Mercedes is exploring Brady's twisted mind without ever making an anti-hero out of him. "Obviously that character is very much a monster, but one we're able to feel for, and that's no easy trick," he told USA Today, adding, "You're not able to dismiss him as just an aberrant example of human life."
When Mr. Mercedes premieres on Audience August 9, the world will see how well Stephen King pulls off complicating a serial killer without excusing him.
See also: How all of Stephen King's novels are interconnected.