M. Night Shyamalan-Led 'Tales from the Crypt' Reboot Cancelled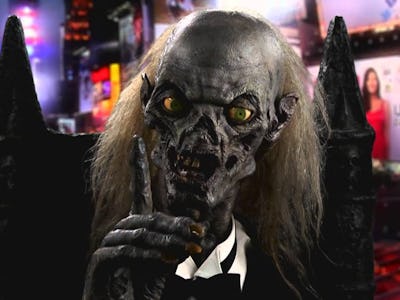 HBO
The tales are going to remain in the crypt. Last year, TNT partnered with M. Night Shyamalan (Split, The Sixth Sense) for a reboot of Tales from the Crypt, the horror anthology series that ran from 1989 to 1996, greenlighting the series and ordering a 10-episode first season. The rebooted cult favorite would have been the crown jewel of a two-hour horror programming block featuring short and long-form storytelling, all curated by Shyamalan. But, the series has been axed for the time being by TNT to make way for other programming.
In a report published by Deadline on Thursday, TNT president Kevin Reilly revealed that Tales from the Crypt has been put on the backburner to make way for sci-fi aficionado Ridley Scott.
"That one got really caught up in a complete legal mess unfortunately with a very complicated underlying rights structure," Reilly said of Tales from the Crypt. "We lost so much time, so I said, 'Look, I'm not waiting around four years for this thing.' Maybe that will come back around but in the meantime, Ridley Scott had come up, who has so much creative enthusiasm."
And while it's exciting to hear that TNT is teaming up with Scott to bring a sci-fi block to its programming, horror fans might have to wait for a while to see new programming from TNT in that genre.