New 'It Comes at Night' Trailer Is a Paranoid Nightmare
But what's with the black goo?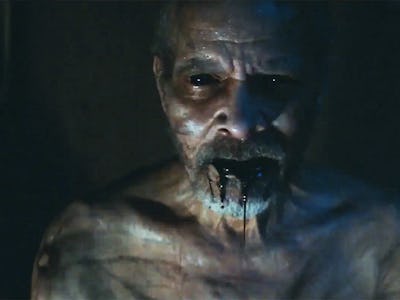 A24
Trey Edward Shults's second feature-length dive into directing, the horror flick It Comes at Night, got its second trailer on Thursday. After receiving high marks at the Overlook Film Festival, public anticipation is high for this paranoia-induced nightmare.
When an unexplained sickness ravages the Earth, a family (Joel Edgerton, Carmen Ejogo, Kelvin Harrison Jr.) hulls itself away in the woods, living in isolation until they encounter another family (Christopher Abbott, Riley Keough, Griffin Robert Faulkner) in need of their help. They take them in and, despite attempts to live together in harmony, "paranoia and mistrust boil over as the horrors outside creep ever-closer, awakening something hidden and monstrous within the man (Edgerton) as he learns that the protection of his family comes at the cost of his soul."
The second official trailer quotes Aristotle and Sylvia Plath, as well as infamous cult leader Charles Manson, who once said, "Paranoia is just a kind of awareness, and awareness is just another form of love."
The trailer features further shots of the sickening black goo (including someone vomiting it up) and ink-black eyes associated with the film so far, as well as new shots of the families attempting — and failing — to live together in harmony.
It Comes at Night premieres in theaters on June 9.