Sex and Violence: 10 Unrated Movies on Netflix
NSFW films available to stream on Netflix.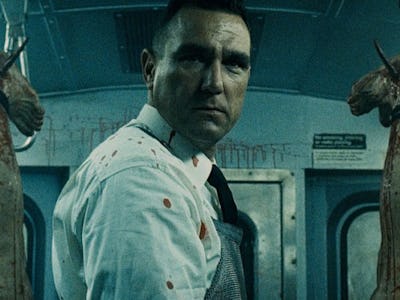 Lionsgate
While a movie being deemed "unrated" doesn't always mean it's NSFW, there's still a good chance it's going to be. Even some of the raunchiest movies out there have extended, unrated cuts to double down on the gratuitous genitalia, but some started out that way. Despite Netflix not being a place to find streamable porn, it has no shortage of unrated movies filled with sexual tension and, yes, enough violence for filmmakers to steer clear of the Motion Picture Association of America.
The MPAA is an entity in the United States that rates films and decides how many f-bombs a movie can get away with before it teeters over the PG-13 ledge into R-rated territory (the hard and fast rule is one "fuck" per PG-13 film, by the way). And sometimes movies will be released without a rating, for whatever reason.
Sex sells. And as much as people would love to look away from a violent act on-screen, sometimes they just can't. So, here are 10 unrated films on Netflix with plenty of sex and violence to … keep you occupied?
Sex
5. Anatomy of a Love Seen
Two young actresses fall in love with each other while shooting an erotic love scene for a movie. It doesn't work out, but they're forced to get back together when they have to reshoot their scene.
4. Nymphomanic: Volume 1 & 2, The Extended Director's Cut
Lars von Trier's controversial, 5-and-a-half-hour-long behemoth stars Shia LaBeouf, Christian Slater, Jamie Bell, Uma Thurman, and Willem Dafoe. It tells the story of self-diagnosed nymphomaniac Joe as she reveals her story to a stranger about her obsessions and her long-standing battle with depression.
3. Room in Rome
A straight woman and a lesbian woman meet in this erotic comedy-drama, where they go on to spend a single, sensual, sexual night together in a hotel room in Rome. They find out more about each other than they initially intended.
2. A Teacher
Veering way past the realm of "morally acceptable" is A Teacher, and you can probably guess why. A high school teacher having an affair with her student is at first intrigued by him, but she soon grows obsessed.
1. Young & Beautiful
This French drama exploring a young woman's sexuality follows Isabelle through her beginnings as a teenage prostitute. She leads a double life that her family soon finds out about.
Violence
5. Big Bad Wolves
A surprisingly funny comedy, Big Bad Wolves bonds two men (one the father of a recently-killed girl and the other a vigilante police detective) together as they seek revenge on a killer who also happens to be a religious studies teacher. They tie him up in a basement and torture him.
4. Hellraiser II: Hellbound
This 1988 classic still thrills decades later, packing a gory punch and amping up the scare from the original Hellraiser. And let's not forget the mattress scene with the razor. We still get chills.
3. The Human Centipede (First Sequence)
Yeah, we know. We're sorry about this. But there are few things more violent than the kind of mutilation and exploitation that goes on in this film.
2. The Midnight Meat Train
Bradley Cooper's first starring role had him portraying an ambitious New York City photographer on the hunt for the "Subway Butcher," a violent serial killer who, naturally, kills people, violently, in the NYC subway.
1. The Snowtown Murders
A chilling thriller based on the real-life events of the Snowtown murders committed by John Bunting in Australia. Aided by his cult-esque followers, Bunting murdered 12 people he claimed were "pedophiles," "homosexuals," or "weak."