Cell Service on London's Tube Would Finally End Citymapper Woes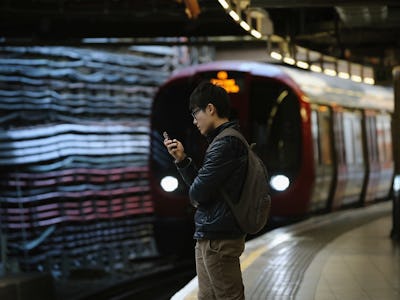 Getty Images / Dan Kitwood
London's underground metro system, colloquially known as "the tube," may soon join Tokyo and Berlin by offering cellular service on trains in between stations. A new report on Wednesday claims that Transport for London, the body in charge of the tube, is exploring the upgrade. If it comes to fruition, it would enable apps like Citymapper to navigate people with instant updates to routes and delays. No more offline messages!
The Financial Times claims that Sadiq Khan, the mayor of London, will start inviting telecom companies to bid for contracts to install the system after the United Kingdom's general election on June 8.
"We are keen to offer full mobile phone coverage for our customers," a Transport for London spokesperson tells Inverse. "The introduction of this would need to be commercially viable and would follow engagement with staff and customers."
The tube may not yet offer cell coverage, but Transport for London has helped foster a number of smartphone-focused projects to improve transport around the city, including apps like Citymapper. Nearly 9,000 developers are signed up to use a unified application programming interface that enables apps to tap into vital information like current traffic flow and tube closures.
Citymapper, which got its start using this data, has not only used it to create a popular mapping application, but also to develop a smart bus. The pilot route, launched over a two-day period earlier this month, showed up on the app as an available route alongside standard tube and bus routes. Scheduling information enables the app to provide accurate estimations of how long each route will take.
A large proportion of the population use this data, but they've so far been unable to access it while using the tube itself. Phil Young, head of online for the body, told Inverse last year that 83 percent of Londoners use the body's web offerings to plan their journey. Cell service would enable these people to reroute their journeys in case of unexpected delays, without needing to resurface or pay for in-station wifi.
London has explored the idea of offering cell service before. Chinese telecom firm Huawei was originally in talks to provide service in time for the 2012 Olympics, but talks broke down after it emerged that putting antennas through the system, which first opened 154 years ago, would prove too costly.