Successful Test of Missile Defenses Is a Show of Force for U.S.
Everything blew up as expected.
by Monica Hunter-Hart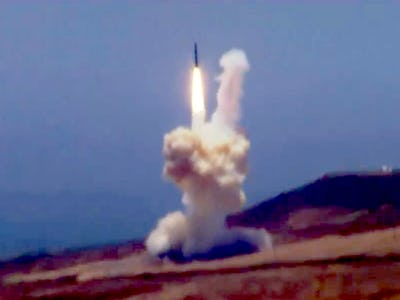 The U.S. military on Tuesday successfully tested its ground-based missile defenses in an attack scenario. Everything blew up as expected.
The Army fired an intercontinental ballistic missile (ICBM) from the Marshall Islands in the Pacific Ocean, some 4,705 miles away from Vandenberg Air Force Base in Southern California, where the Pentagon's Missile Defense Agency launched a rocket — officially known as a "mid-course defense system" — from an underground silo. It successfully collided with the missile fired from the Army base at Kwajalein Atoll.
It blew the missile up mid-air. It was the first time a ground-based missile defense system had been used in a simulated attack by an ICBM, and it was a show of force by the United States government, increasingly at odds with North Korea under President Donald Trump.
The defense rocket destroyed the incoming ICBM by using an "exo-atmospheric kill vehicle," the Pentagon announced.
A "Critical Milestone"
"The intercept of a complex, threat-representative ICBM target is an incredible accomplishment for the GMD system and a critical milestone for this program," the Missile Defense Agency's Jim Syring said in a statement after the Tuesday afternoon test. "This system is vitally important to the defense of our homeland, and this test demonstrates that we have a capable, credible deterrent against a very real threat. I am incredibly proud of the warfighters who executed this test and who operate this system every day."
While this was the first test of its kind, the military has tried out the ground-based interceptor 17 times before, with only nine successful attempts up until now. The last success occurred in June 2014; before that there'd been only failures since 2008.
Navy Captain Jeff Davis said in a statement that the test was not a reaction to North Korea's recent trial launches — the latest of which happened on Monday — but it was occurring, in part, because of Pyongyang's longstanding nuclear proliferation.
"Dangerous Rhetoric" From North Korea
"North Korea has expanded the size and the sophistication of its ballistic missile forces from close-range ballistic missiles to intercontinental ballistic missiles, while also using dangerous rhetoric that suggests that they would strike the United States homeland."
Davis also mentioned Iran's missile systems as a particular concern.
"Their ballistic missile capability will continue to threaten U.S. strategic interests in the Middle East," he said. "Iran's overall defense strategy relies on a substantial inventory of theater ballistic missiles capable of striking targets throughout the region."
The U.S. military tests its own ICBMs about twice a year, and conducted one trial earlier this month. While these are just simulations, it's surprisingly easy for the U.S. president to launch actual nuclear warheads.
Meanwhile, Trump continued his aggressive tweets at North Korea this week. Upon his return to the United States after a lengthy trip abroad, he spoke of the country showing "great disrespect."