'Stranger Things' Star Millie Bobby Brown Auditioned for 'Logan'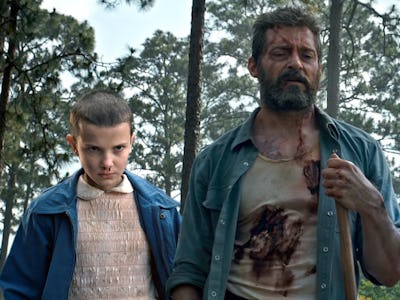 20th Century Fox/Netflix
Millie Bobby Brown, the 13-year-old actress behind Eleven on Netflix's Stranger Things, has already proven that she can play an intense, mostly silent pre-teen terror. It turns out Brown auditioned to play another young powerhouse, as she tried out for the part of X-23 in Logan in front of director James Mangold and Wolverine himself, Hugh Jackman.
Although 11-year-old Dafne Keen was ultimately cast to play Laura Kinney (and she did a terrific job), Brown says that her go at the part was her best audition ever. Brown was speaking to Westworld star Evan Rachel Wood as part of Variety's "Actors on Actors" series, and she looked back at the experience fondly.
"I was like, 'It's going to be amazing, I'm going to really prepare,' and I sat in my room reading the lines," Brown recalled. "Honestly, for me, I felt so — I felt an actor, in the audition room, hitting Hugh Jackman, and James Mangold sitting right in front of me."
Though it would've been neat to see Eleven eviscerate government goons with her claws instead of her mind, Keen got the part instead. Brown approved of her performance in the final film. "I watched it; she was incredible," Brown said. "It meant so much to me."
Wood's full interview with Brown will air on June 13 on PBS SoCal. Stranger Things comes back for its second season on Halloween, October 31, on Netflix.