'The Square' Wins Palme d'Or at Cannes
Swedish film beats out 'Good Time' for the top prize.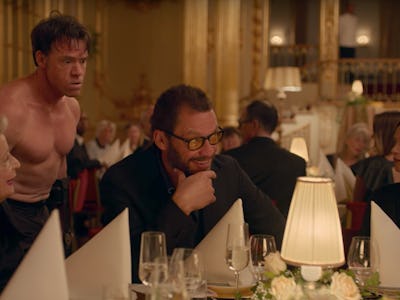 Youtube
The Swedish satire The Square won the top honor at the 70th Cannes Film Festival Sunday night, with director Ruben Östlund taking home the prestigious Palme d'Or.
Of the 19 films competing for the top spot, The Square had not been anticipated to win. Critics had predicted that the Safdie brothers' Good Time, French AIDS drama 120 Beats Per Minute, or the Russian character drama Loveless would be the top contenders for the most prestigious prize.
Sofia Coppola won best director for The Beguiled, a Civil War-era drama, starring Nicole Kidman, about an injured soldier taken in by a girls boarding school. Coppola is the second woman to be awarded the Best Director prize at Cannes.
The thriller You Were Never Really Here earned Scottish filmmaker Lynne Ramsay Best Screenplay, and Joaquin Phoenix took home the Best Actor award for the film.
Diane Kruger also won Best Actress for the German drama In the Fade.
Spanish auteur director Pedro Almodóvar chaired this year's Cannes jury, which also included Will Smith, Italian director Paolo Sorrentino, actress Jessica Chastain, French actress and director Agnès Jaoui, German director Maren Ade, South Korean director Park Chan-wook, French composer Gabriel Yared, and Chinese actress Fan Bingbing.
The Square is a satirical drama about the world of modern art and centers around a successful curator as he prepares for a large exhibition. When the curator (played by Claes Bang) is mugged, he embarks on a personal journey to find the perpetrator, as events in his life and work simultaneously start to unravel around him. The film also stars Elisabeth Moss and Dominic West.
Anyone who's seen Östlund's last major film, Force Majeure, knows the director is incredibly adept at drawing out hilariously awkward social situations to really make a viewer squirm. If this clip from The Square is any indication, his latest film also delivers.
Correction 05/29/17: In the original version of this article, it was stated that Sofia Coppola was the first woman to win the best director award at Cannes, when, in fact, she is the second. This article has been edited to reflect this fact.