A Women-Only 'Wonder Woman' Screening Has Men, Like, All Mad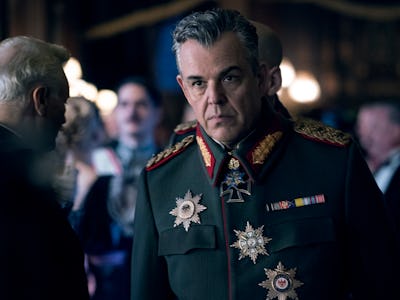 Warner Bros. Pictures
The popular Alamo Drafthouse theater chain has announced a women-only screening of Wonder Woman, and some men are not having it. Even though it's just one (sold-out) screening, for one night, on June 6, for one theater in Austin, Texas, fragile dudes are sounding off on the theater's Facebook page about being excluded. Sheesh.
On Thursday, the Alamo Drafthouse in Austin announced the exclusive screening of Patty Jenkins's Wonder Woman for, as Drafthouse's announcement reads, "women (and people who identify as women)". Given the DC hero's prominence in popular culture as a symbol of feminism and equality, the screening was, and is, a neat idea, and sold out within a few hours. And besides the audience, the Drafthouse said its staff for the screening will also be women.
"Apologies, gentlemen," the theater wrote on its event page, "but we're embracing our girl power and saying 'No Guys Allowed' for one special night at the Alamo Ritz. And when we say 'Women (and People Who Identify As Women) Only,' we mean it. Everyone working at this screening — venue staff, projectionist, and culinary team — will be female."
Cool! After an emotionally draining week for the world, in which an Ariana Grande concert in the UK — with a majority audience of girls and LGBTQ youth — was the target of terrorism, it's nice that there's one corner of the world that will be a safe space for women to enjoy Wonder Woman's long overdue movie.
But, predictably, dudes in the Facebook comments are getting Mad Online for being excluded. "Great, let us know when you have guys-only screenings of Thor, Spider-Man, Star Wars, etc. Let's see you walk the walk now that you set this precedence," one commenter wrote. "Apparently 'equality' is only selective nowadays…. How about a 'men's only' showing of a movie or is that not how equality works?" said another.
One genius even tried to circumvent the theater's rule: "Just go guys, and say you identify as a female."
But the Drafhouse has been standing its ground. Their social media employee has been actively engaging its comments since the announcement went live, and they're doing it with grace and wit worthy of Diana Prince.
While Wonder Woman is a global icon who transcends gender and sexuality, it's just typical some men would get fired up, despite other screenings at the Drafthouse (and virtually every other theater chain out there) being non-exclusive. Way to spend your energy, gentlemen.
Wonder Woman will be released on June 2. If you're a guy, you can see it literally anywhere else at literally any other time.