Closing Social Media Accounts After Death? Here's How
Don't let your spouse get automatic access to your sketchy messages.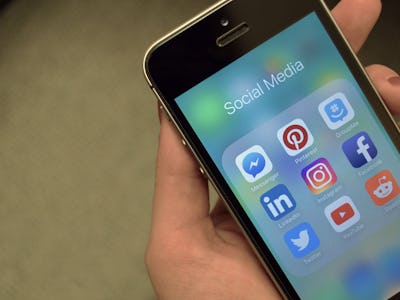 Getty Images / Sean Gallup
Drafting a will for how to pass down your assets when you die is far from a pleasant process, but at least there's a framework to go about it. At least, when it comes to physical assets. We spend so much of our lives sifting through digital materials these days — and obviously we want to be able to make sure those things are left behind to right people. God knows there are emails sitting in your Gmail or private photo albums on Facebook you would not want your mother or other sensitive relatives and friends digging into.
Lucky for you, there are ways to ensure that in the event of your passing, your email and social media accounts go specifically to the person you best entrust them with. Here's what you need to do to make sure you bequeath your digital life to the person you want when you die.
Facebook
Anyone who used Facebook in high school or college likely almost certainly has at least a few skeletons in their tagged photos or timeline posts they'd be more than happy to see stayed buried forever. Limiting your Facebook access for after you die is pretty simple though.
Just log into your account and go to the Settings page. Under General, go to Manage Account, and add a name from your friend's list to the Legacy Contact option. (This might also be found under the Security tab for certain accounts.)
When you die, family members have the option of turning your page into a kind of digital memorial. If this is what your loved ones choose to do, your Legacy Contact will be the one to have access to the page in order to post to your timeline, respond to friend requests, answer messages, and make any other updates.
The Legacy Contact won't be able to log directly into the account and change or remove past posts, photos, read messages, or unfriend any individuals. If, instead, you have sensitive information you'd like to see disappear completely from the web, you can also change your account settings to permanently delete your account after you've passed away (assuming friends or family have notified Facebook of your death).
Google (including Gmail)
With the myriad of Google applications people use these days — Gmail, Photos, YouTube, Calendar, Google Drive, etc. — chances are extremely good you have a Google ID. That account covers all of them.
When you sign into Google, go to My Account and click on Personal Info & Privacy. Find Inactive Account Manager, and just run through the setup process. You'll be able to add up to 10 individuals you trust who will notified if you haven't logged in sometime between three and 18 months.
They won't have direct control of your account, but will instead get an option to download any data you have elected to share with them, like banking information, financial emails, social networking passwords, photo collections, etc. Almost everything under the Google umbrella an be shared.
And moreover, you can leave a personal message that will also be emailed to them in the event of your passing — a final message to send to your loved ones.
And finally, you can also just request that Google delete your entire account after a certain amount of inactivity. Everything will vanish in an instant, no questions asked.
Twitter resolves things much faster. In the event of a user's death, friends or family can contact the company directly and request for an account to be deactivated.
Facebook owns Instagram, so naturally it also extends the memorialization option to its photo-centric social media app as well. Next of kin just need to contact the company directly to move forward with the procedure — or to delete the account entirely if that's what's requested.
Microsoft (including Outlook)
Microsoft won't transfer your data after your passing, but next of kin can contact the company to close out an account. They can also give access to certain materials if you so desire. There's a few hoops to jump through — you'll need to provide a lot of specific information regarding what you need, and potentially show proof that you are the benefactor of the deceased's estate, but at least you can be sure the information is going some place secure.
Your point of contact: msrecord@microsoft.com.