'Pokemon GO' Might Be Dishing Out a Brutal Punishment to Cheaters
It looks like Niantic is finally cracking down on third-party application use.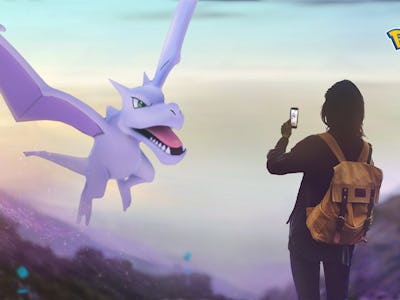 nianticlabs.com
Over the past few days, the Pokémon GO community has been trying to piece together what they believe is a new security measure which hides rare Pokémon spawns from cheaters using third-party applications to assist them in Niantic's popular mobile game.
While using tracking applications to hunt down rare Pokémon isn't anything new, Niantic hasn't directly cracked down on Pokémon GO players for using them, despite its announcement that the company considers their use to be cheating in an interview with Forbes last year. Many of the game's hardcore players feel the opposite way, however, considering the use of mapping applications to be a fair and enjoyable way to build their collection of pocket monsters. But if Niantic's latest security update have anything to say about it, that attitude may be changing over the next few weeks.
According to Pokémon GO Hub, Niantic's latest server-side security measures appear to be targeting accounts used by third-party trackers and preventing them from seeing rare Pokémon spawns in the scanned area. Essentially, this means accounts that use trackers to pinpoint rare Pokémon cannot actually see them nearby, thus preventing players from gaining access to rare spawn locations when using the third-party track in tandem with their own Pokémon GO account.
This appears to be a temporary fix, as it only seems to target accounts which were previously detected and flagged as malicious by Niantic beforehand. Several tracking applications have already managed to defeat Niantic's latest security update, though, creating fresh accounts to counteract the company's flagging protocol used to enforce the latest security update.
Most Pokémon GO accounts hit by Niantic seem to be run by tracking websites and applications, although it looks like a few Pokémon GO players who occasionally use tracking apps have also been affected by the latest security measures. There are dozens of users who are claiming to have been falsely marked by Niantic's new anti-cheat method, too, though we can't confirm if they used a third-party tracking application alongside their Pokémon GO accounts.
At this point, Niantic has yet to officially confirm or deny that the company has deployed a new set of security measures for Pokémon GO. But with this report coming in from third-party applications and various members of the Pokémon GO community, it's hard to deny that something is going on behind the scenes of the mobile game.
Honestly, it makes sense for Niantic to bump up security this month considering the game's first legendary Pokémon may be practically around the corner — even though the company hasn't ~officially~ confirmed that they're coming.