People Are More Excited For 'Wonder Woman' Than 'Spider-Man'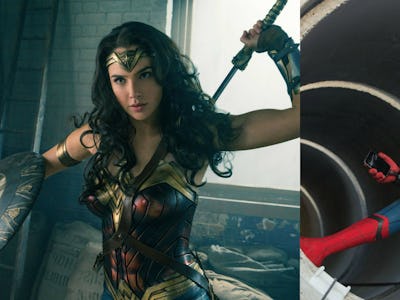 DC Entertainment, Marvel Entertainment
Spider-Man may have spent more time web-slinging on the big screen, but it turns out all you nerds are way more excited to see Wonder Woman this summer. A Fandango survey found that Wonder Woman, Diana Prince's (Gal Gadot) first live action solo film, is the most anticipated movie of the summer.
As reported by Entertainment Weekly, Fandango surveyed over 10,000 people — its largest survey ever — to find out what one movie everyone was most excited to see between Memorial Day (May 29) and Labor Day (September 4) in 2017. Wonder Woman was the favorite, followed by Spider-Man: Homecoming, Pirates of the Caribbean: Dead Men Tell No Tales, Stephen King's The Dark Tower, and Christopher Nolan's Dunkirk.
Separately, Fandango also found that 92 percent of people surveyed are excited to see a standalone superhero movie with a female lead, and 87 percent wished Hollywood would make more female-led superhero films.
DC is the first of the two major superhero franchises to give a female hero her own blockbuster, with Marvel expected to premiere its first female-led solo film with Captain Marvel in 2019. Between incredibly positive early reviews and this reportedly high anticipation, it seems DC made an excellent choice.
Wonder Woman premieres in theaters on June 2.