#RoomForManchester: How Social Media Powered a Crisis Response
Mancunians are coming together on social media.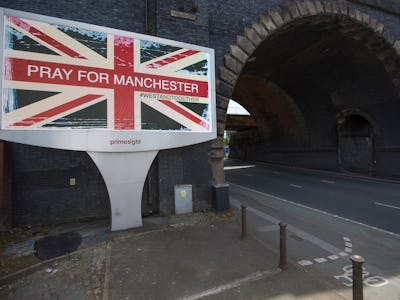 Getty Images / Christopher Furlong
People are coming together after Monday's attack in Manchester to help out those in need. On social media, the hashtag "#RoomForManchester" is helping people find places to stay, while others are sharing posts from others in a bid to help find loved ones.
The bombing at one of Ariana Grande's UK shows has shocked both the country and the world. The attack at Manchester Arena led to 22 deaths and 59 injuries, with victims taken to eight different hospitals in the local area. The Islamic State has claimed responsibility for the attack, and prime minister Theresa May has described the incident as a "callous terrorist attack."
Throughout the morning responses, people are connecting across social media to help those in need. In one instance, Twitter user Riley Blackery asked the site for help finding her friend Heather. In response, Nathan Lamb was able to send over a picture of her friend safe and sound:
Others are offering assistance and transport to those who need it most.
At the time of writing, just two victims have been identified. The first named victim is 18-year-old Georgina Callander, a student in her second year of a health and social care course at Runshaw College in Lancashire. The second victim named hours later was Saffie Rose Roussos, an eight-year-old from Leyland. Twelve of the 59 injured in the attack were under 16, the North West Ambulance Service reported earlier in the day.
Greater Manchester Police is advising those concerned about loved ones to call the local emergency number (+44)161 856 9400 for more information.
Facebook has also activated its safety check feature so that people in the vicinity can quickly post on their profiles that they are safe and out of harm's way.
Hotels are offering places to stay for people that need it most.
Even local business owners have taken to social media to help provide support.
Taxi firms are also offering free rides to those unable to find people to give them a ride.
Manchester has rapidly come together through social media to help people get the support they need most.