ISIS Claims Responsibility for Manchester Concert Attack
The incident killed 22 and injured 59.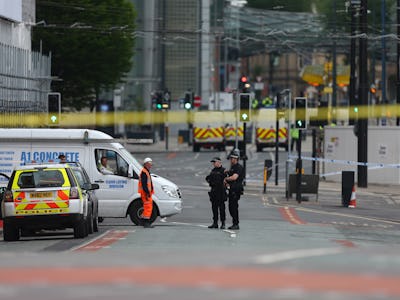 Getty Images / Dave Thompson
The Islamic State has claimed responsibility for Monday's terrorist attack on an Ariana Grande concert at the Manchester Arena, which killed 22 people and injured 59. The group made the claim through a statement distributed through its official Telegram messenger account.
The incident, the deadliest terror attack in the United Kingdom since 2005, has led to an emergency COBRA meeting with top government officials on Tuesday morning.
Prime minister Theresa May spoke outside 10 Downing Street this morning, stating that it was "now beyond doubt that the people of Manchester and of this country have fallen victim to a callous terrorist attack."
Describing the perpetrators as "evil losers," President Donald Trump spoke at a press conference in Bethlehem on Tuesday, where he is currently visiting as part of his first international tour.
"I extend my deepest condolences to those so terribly injured in this terrorist attack, and to the many killed, and to the families, so many families of the victims," Trump said. "We stand in absolute solidarity with the people of the United Kingdom."
Story is developing and will be updated as more information becomes available.