'Alien' Fans Have Some Crazy Theories About David in 'Covenant'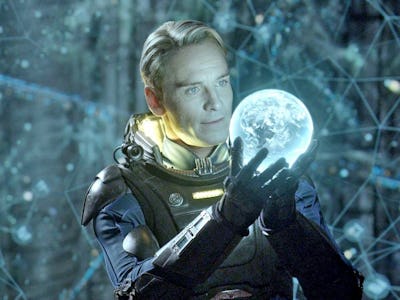 20th Century Fox
The trouble-making android who served aboard the Prometheus, David (Michael Fassbender), returned for Alien: Covenant. And, despite the internet's lukewarm reception to Ridley Scott's follow-up to the head-scratching 2012 film, everyone sure had some strong things to say about David — and lots of theories about what he might do next.
This post contains chest-bursting spoilers for Alien: Covenant.
The mad scientist A.I. of the Alien universe is well-liked by the Alien fandom (though hated by the humans he torments in the movies), and most of that has to do with his imperfection and general dislike for the people who made him. He brings the plot full-circle as he attempts to destroy the very people who created him.
The "official" Covenant discussion thread on Reddit's r/LV426 (the main Alien franchise subreddit) has been jockeying theories back and forth since this past weekend's Covenant premiere. And, naturally, David has been a big part of some of those theories.
The reigning theory about David is that he's going to personally solve the continuity error everyone keeps freaking out about, and that Alien creator Ridley Scott has hinted at the next Alien installment finally addressing. The plot hole is that there's not yet an explanation for how the alien pilot from the original 1979 Alien — fondly known as the "Space Jockey" — ended up on LV-426 so Ellen Ripley and her crew could find it.
Since Prometheus revealed that the Space Jockey beings are actually the Engineers' space suits, then, technically, anyone could be inside that Space Jockey suit Ripley's crew comes across in Alien. A lot of fans are theorizing that David is the Space Jockey, as it would begin to explain how David's alien creations ended up on LV-426 if he brought them there himself. They went on a road trip with their creepy android dad and grew up to kill Ripley's crew.
It's also thought that maybe David's end will be a little more fitting, with one Redditor posing that David will experiment on the colonists he kidnapped and get a little power hungry. He'll be his hive's mother, but "eventually, the hive does what an Alien hive seems to always do: produce a queen. David is no longer needed at this point. He's useless. And the aliens do to him, their creator, what he has done to his. They kill him."
Another David theory supposes that "David actually cannot create something totally new, he can only modify existing creations. So in this sense perhaps he took what was depicted on the mural and made it as best as he could." Despite David's desire to create something new, he can't. And that's a point that could be endlessly frustrating for the aspiring megalomaniac.
The final best theory has to do with David's more sentimental side.
Some Redditors think that David has a desire to make something wholly organic, which is why he doesn't use any sort of bio-tech. David wants to make a purely biological being, as he's a fully synthetic creature. He wants his creations to have the freedom of being "natural," though there are very few "natural" things in the Alien franchise.
Alien: Covenant is now playing in theaters.