NASA's Emergency Spacewalks Show We've Got a Problem Up There
Tuesday's operation is a worrisome glimpse into the station's increased age.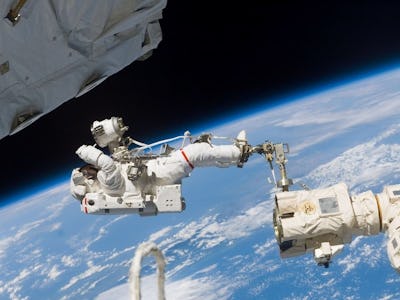 NASA
A pair of NASA astronauts will conduct an emergency spacewalk on the International Space Station on Tuesday to replace one of the two computers that control the vast majority of American systems on the $100 billion spacecraft. The computer, which failed sometime Saturday, left the station relying on a backup system to reroute commands to the solar power system, cooling loops, and other hardware.
Although the station's current crew of five (hailing from the United States, France, and Russia) were never in any danger, the call for an emergency spacewalk is yet another sign that the station is perhaps entering one of the last phases of its primary life. The last few years have seen an usual spike in the number of unscheduled spacewalks being held to make emergency repairs and fixes to the station's aging instruments and parts.
The broken computer over the weekend is perhaps the most severe problem NASA has had to deal with in recent memory — at least a December 2015 spacewalk to fix the brakes on a robot arm's mobile transporter. None of these types of things are easy fixes — the microgravity environment makes it particularly difficult to conduct robust repairs when objects can float away on a whim, as does the fact that astronauts in their spacesuits don't exactly possess the kind of flexibility that makes these operations easy.
The ISS continues to be one of the most state-of-art laboratories ever built, but after going operational in 2015, it's showing its age. Currently, Congress has funded U.S. participation with the station through 2024, but there are already many parties clamoring for plans to build a successor orbital outpost. New kinds of spacecraft design that are more modular and lightweight, like the inflatable BEAM module, are already being tested.
If the ISS continues to suffer from unexpected equipment problems, it may spur space officials to move forward with an ISS replacement sooner rather than later.
Tuesday's spacewalk, which will involve station commander Peggy Whitson and flight engineer Jack Fischer, will last about two hours, starting around 8:00 a.m. Eastern Time. Fischer will take opportunity to install a pair of antennas which was initially planned for the May 12 spacewalk earlier this month. This will be Whitson's 10th spacewalk and Fischer's second.