Demetri Martin's Comeback Is Very Personal
Martin's career was all happening, and then it wasn't.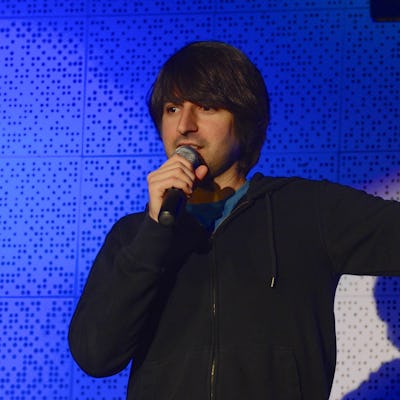 Getty Images / Jason Davis
Small observations have always been a staple of Demetri Martin's act. When I slide my little audio recorder halfway across the table, to better capture what he's saying about the marketing of his new movie, the dramedy Dean, Martin stops to notice the make and model. "I have a similar recorder," he tells me. "It's for stand-up. I actually get good audio. I usually just put it on the stool. I'm not going to release the audio, but I can really hear everything I need."
At 43, Martin still looks like the young comedian who I saw play an underground show at Syracuse University over a decade ago, when he was on a career trajectory that saw him host his own show on Comedy Central and star in an Ang Lee movie by his early 30s. His hair is still in its trademark shag, but it's a little bit shorter now, and peppered with long grey strands. He's still a successful touring comedian, deploying his guitar, exacting one-liners and trademark clever doodles, but he's also in the midst of a personal and professional reinvention. The little black audio recorder will be an essential tool in that metamorphosis.
Martin, whose movie comes out in June, is slowly building up material for a Netflix special he'll record in December. In the months to come, he'll be scrutinizing an act as it undergoes a somewhat radical change.
"I'm writing more on stage, trying to get more conversational and a little more personal," he says. "I still have one-liners, and I love my jokes — they're the backbone of what I do — but it's different now than just having 100 jokes and that's the special. It's like, is there anything more here? Is there something a little deeper I can share, without oversharing like every other asshole who is going to tell you his life story out there?"
That's the catch: His background, he admits, doesn't immediately lend itself to the confessional comedy that has become en vogue in recent years. He admires comedians like Tig Notaro, who have mastered the art. "But other times it feels like diarrhea of autobiography or something," he says of many acts that indulge in the current trend. "Straight white male dudes, there are a lot of us in comedy, so how different is everybody's story going to be?"
He jokes about the relative, privileged mundanity of his own biography: Good grades, supportive parents, a college education, early success. That's why he liked jokes in the first place. But the irony is that after his last few years, he's got some stories that are worth telling.
Martin's initial rise was meteoric. He quit NYU School of Law to pursue comedy full-time, won a prize for his solo show at the Edinburgh Fringe Festival in 2003, and worked for a few years as a staff writer on Late Night With Conan O'Brien. Then he became a contributor on Jon Stewart's Daily Show, recorded his own Comedy Central special, and released his first stand-up album.
At that point, he was in the spotlight and ready to assume a starring role. Comedy Central gave him his own show, which would be called Important Things, but before the first season was shot, he was cast in the lead of Ang Lee's comedy Taking Woodstock. Remarkably, Comedy Central let him put the show on hold to shoot the movie, because that's what happens when you're a hot commodity in Hollywood.
"It'd be nice to have problems like that again," he says, laughing. "It was like, oh my god, it's happening for me."
And then, suddenly, it wasn't happening. The movie received mixed critical reviews and was a box office bomb. Then Important Things was canceled after its second season, in 2010. Then he got a hard break during the production of the movie Moneyball.
"I had a great two-hour meeting with Steven Soderbergh, and I found out the next day that I got the part," he recalls. "I was thrilled. I was going to be in a movie directed by Steven Soderbergh, who I have great respect for, and Brad Pitt! I got my hair cut next to Brad in the trailer, we were going over our characters, talking about how this was going to work. That was a Thursday. Friday, I get a call before we get to the set."
Martin's agent explained that there was some kind of power struggle going on, a fight over the script between Soderbergh and the producers. It'd be worked out in a day or so, his agent assured him. Of course, that never happened; Soderbergh famously left the movie, and the script was re-written by Aaron Sorkin before Capote director Bennett Miller took over. "New script, new director a year later, and of course, I wasn't in the movie," Martin remembers. "The part that was close to my part was what Jonah Hill ended up playing. It was going to be this two-hander with me and Brad Pitt, and it didn't happen."
Moneyball was a hit, and Hill earned an Oscar nomination, kickstarting his turn into dramatic acting. Martin, meanwhile, had a bit part in Soderbergh's next movie, the viral outbreak thriller Contagion, but the offers began to dry up.
"Suddenly I was in L.A., the classic bait and switch: I'm coming up in New York, and I moved the show I'm doing to L.A. because it's easier to produce it there," he says. "Then it gets canceled, and then you're just left out there. And then you're like, shit, I'm like every other schmuck out there. I stayed out there and now I have two kids and a wife and a house. I like it, I'm comfy, but I'm as hungry as ever, because I still want to make things. That was hard, it definitely felt like I was just kind of old news."
He kept busy, recording another special for Comedy Central and one for Netflix, and wrote his first book (title: This Is a Book). But it was still hard to process what had happened. "My friends are on billboards and stuff; you live out there, and it does mess with your head," Martin admits. "I'm like, 'Oh, it's not happening for me.' So then I try to start over and try to climb my way back."
Climbing back, he decided, meant making a movie. Back during the hot streak Martin sold a couple of scripts to major studios. But they were high concept, he says, and ultimately never got made. A decade later, without the buzz he once had, he would have to go the indie route, and that meant keeping things simple.
"That drove me to where most people start, which is to my own life experience," he recalls. "And so then I thought, well, I did lose my dad when I was 20, and it's not something I've talked about. I haven't done a one-man show about it, I haven't written memoirs, I just do my jokes. So I thought, 'OK, there's something here.'"
Martin wrote a very fictionalized version of his experience; he would play Dean, a New York animator who loses his mother in his 30s. Kevin Kline signed on to play Dean's widower father, and they raised half the small budget, making it feel like a legit movie. But securing the rest of the financing proved difficult, delaying the start of pre-production.
Ultimately, they had just two and a half weeks of prep time for a 20-day shoot, which was split between New York and L.A. Looking back, Martin says, he was insane for trying to make it work, especially as a first-time filmmaker. He had a great cast — Gillian Jacobs plays his quasi-love interest, while Mary Steenburgen played opposite Klein — but it felt rushed and a bit naive.
"I kinda didn't know what I didn't know. I still want to make movies and would still do it again under the same conditions, but I wouldn't like it," he says, laughing. "It was not enjoyable. Even while it was happening, I was thinking, 'C'mon man, you're making your first movie, joke around a little, have a good time!' But every night I was going to sleep so stressed, and I was like, 'Fuck, what did I get myself into?'"
It didn't help that not only was he directing and acting — a muscle he still wasn't used to using much — he was accessing the long-buried emotions from one of the most painful times in his life. His dad had died two decades ago, but acting out scenes inspired by that loss made the loss sting anew.
"That I didn't count on," Martin admits. "I was like, yeah, I fictionalized it, it's fine. But especially in the edit, it was like living with this shit. And the humbling realities of my limits as an actor and a director … seeing my nose from all these angles, just a simple thing like that, you're like, whew. I don't have a button nose; I don't have a square jaw. But you forget. I adjust, I see myself a certain way, and then you're on the screen and you're like, alright, that's what you have to work with."
For all of Martin's self-criticism, he wound up making a sweet, relatable movie. Dean is a shaggy, sometimes-quirky story about two men trying to emerge from a period of grief. A bicoastal two-hander, it's reminiscent of Annie Hall and Garden State and wears its influences on its sleeve but replaces affectation with earnestness.
The movie premiered at the Tribeca Film Festival last year, where it won the award for Best Narrative Feature, and hits theaters finally on June 2nd. Martin is hoping for some box office success for the movie but feels more than anything else that it proves that he can make a movie of his own, that he can handle all the responsibilities that come with being an auteur and actor, and it sets him up for bigger future opportunities.
Martin wants to shoot his next movie in Berkeley — all in one location, with a moderate climate — and is working already on writing the script. And as he's learned, he can't rely on anyone but himself to make it happen.
"I hate saying nobody cares, but it really feels like, until you have something you can show people, nobody cares," Martin says, laughing a bit ruefully. "Nobody's checking in with you or saying, 'How's it going? Keep going!' Either do it or don't, dude. Get in line."