'Arrow' Gives Oliver the Same Old Love Triangle for His Birthday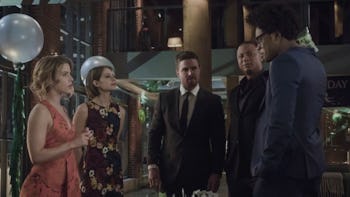 The CW
It's Oliver's birthday, and Team Arrow decides the only thing he really needs is some flirtation with Felicity. Lately, The CW's original superhero drama has done all it can to tease the idea of Oliver Queen giving his relationship with Felicity Smoak (an invention of the show, and not the comics) another try.
Of course, while teasing a new romance between its two leads, Arrow also ramps up the tension between Oliver and Adrian Chase for Season 5's big showdown. Fans are undoubtedly excited to see the return of Slade Wilson, though Black Siren is met with decidedly more mixed emotions.
In this episode, we get all the lingering glances and dimly lit, hushed conversations that #Olicity shippers crave. Twitter, ignoring all the subplots going on in the episode, centered in on Oliver and Felicity trying to rekindle something, and had a grand old time making GIFs.
But then, in the last few moments of the episode, Black Siren showed up again, promising that Oliver would have to contend with his dead ex-girlfriend's doppelgänger again, and the same #Olicity fans on Twitter were having none of that.
After the Black Siren reveal, fans realized that next week's finale is poised to unite a ton of Team Arrow members, heroes and anti-heroes alike, against Adrian Chase.
Arrow airs on The CW on Wednesdays at 8 p.m. Eastern.