Google Scoops Apple with 2 Major Announcements About Assistant
The iPhone's software monopoly took some hits at Google I/O on Wednesday.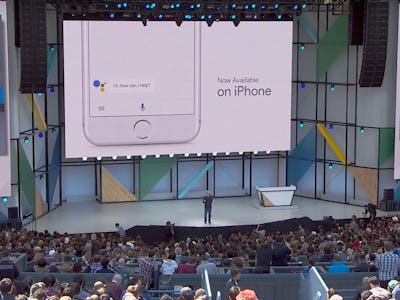 Apple's Siri is the most more popular A.I. assistant in the world, but that's in spite of the fact that Android devices control a much bigger share of the smartphone market than iPhones.
Google is targeting Siri's dominance in the market by improving Google Assistant and making two aggressive moves at Apple's turf:
1. Google Assistant became available on iPhone on Wednesday.
2. Google has enabled Android users to communicate with Google Assistant via text (Apple Siri texting was recently patented), beating Apple to market.
Scott Huffman, the vice president of engineering for Google Assistant, told Google I/O conference attendees in Mountain View, California that both features were immediately ready for download.
Both are shots at penetrating the hardware-software walls Apple has built in when it comes to using its devices. Macs, iPhones, and other Apple products are notorious for the fact that much of the integral software users will use are Apple-made. Google has made it a point to keep much of its applications available only to Android users, or at the very least, making the most efficient features of that software accessible only to Android devices.
Making Google Assistant available on iPhone means Google is pretty confident even Apple acolytes will convert from Siri to Assistant if they are given a taste of what Google has to offer.
"We think Assistant should be available on all kinds of devices where people want to ask for help," said Huffman.
Allowing users to interact with Assistant through text is just the icing on the cake. Rumors about Apple's text-with-Siri feature have it becoming available on iOS 11, which won't be previewed until next, and won't be released for consumers until the fall.
Google has basically usurped Apple's thunder and implemented the same feature for Assistant, and it's available to use right now — even on iPhones.
It's unclear how Apple will respond to this surprise move, but it certainly can't be happy with this revelation.