The Internet is Gleefully Obsessed With 'Injustice 2' So Far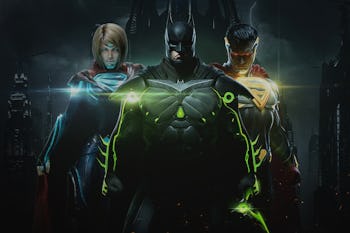 WARNER BROS. ENTERTAINMENT
The DC Comics video game Injustice 2 has been out for less than 24 hours, but it's already the internet's latest addiction. With excellent fighting, daring storylines, and a brilliant new gear system, the highly-anticipated sequel to 2013's Injustice: Gods Among Us has been an immediate hit.
The plot takes place in a dystopian universe in which Batman and other DC cohorts must fight both the evil superhero group "the Society" (Bane, Poison Ivy, Scarecrow, Catwoman, among others), who are trying to take over the world, and the evil android Brainiac. The game offers many new playable characters, including Gorilla Grodd, Supergirl, Cheetah, and the primary antagonist, Brainiac himself.
Folks on Twitter have been keen to share their enthusiasm.
Some people have zipped right through the game already.
Of course, not everyone loves Injustice 2. Some people are experiencing problems.
And some dislike the game itself.
On the other hand, don't take anyone on the internet's word for it. Play the game yourself; it's out now for Xbox One and PlayStation 4, and you can also find mobile versions on iOS and Android.