Here's That Billie Jean King Tennis Movie You Wanted
Can Emma Stone's turn as tennis star Billie Jean King electrify a modern audience?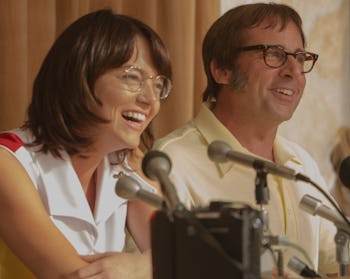 Fox Searchlight Pictures
In 1973, tennis player Bobby Riggs began touting misogyny as part of his already flamboyant brand. When he invited Billie Jean King, considered the top female tennis player, to a match, she declined. He beat Margaret Court, another female tennis player who took King's place, and landed himself on the cover of Sports Illustrated and Time. Furious, Billie Jean King changed her mind and went on to beat Riggs in a controversial and fiery series of matches.
This fall, Steve Carell and Emma Stone will face off as Riggs and King in Battle of the Sexes, a film directed by Valerie Faris and Jonathan Dayton, the married directorial team behind Little Miss Sunshine. From the looks of the film's trailer, King's lesbian relationship will be kept intact in this biopic; though King was married to a man during the matches against Riggs, she was still coming to terms with her sexuality.
During the lead-up to Riggs vs. King, many male critics allied themselves with Riggs. After King won, they began defending Riggs as having lost because he was 26 years older than King. That argument, which changes the original terms of the showdown, still continues today. In fact, you can see Riggs apologists sounding off in the YouTube comments on the film's trailer.
Of course, in 2013, Deadspin published an expose suggesting that the entire match had been fixed. It isn't clear whether Battle of the Sexes will address this part of the story.
Watch the full trailer below.
Battle of the Sexes hits theaters on September 22.