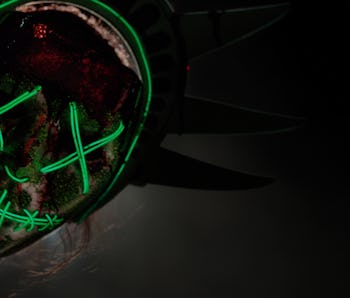 Entertainment
'Purge' TV Series Asks: "What About the 364 Non-Purge Days?"
How does the blood-soaked fictional society in James DeMonaco's 'Purge' franchise survive the rest of the year?
Universal Pictures
Perhaps it's not a surprise that Blumhouse's Purge franchise will split from its movie franchise into a TV show this year. With a famously low budget and a high ceiling for box office sales, The Purge and its sequels (and prequel!) have proved wildly successful for Blumhouse CEO Jason Blum. Audiences haven't gotten tired (yet) of watching characters legally torture, maim, and murder their neighbors, and now we'll all get to watch the mayhem from the comfort of our own sofas.
So what's The Purge TV show going to be about? In Entertainment Weekly, DeMonaco says he's not interested in writing an entire show, but he'll "probably write the pilot." The show will explore what happens in his fictional, bloody world on the other 364 non-Purge days.
"What's great about Purge TV," DeMonaco says, "is that the ten hours they'll be giving us, it allows us to explore character, why someone on this night would do something so heinous as pick up a gun or a knife and do something. It's exciting because it opens up the idea in a way that I couldn't do in a 95-minute movie." Of course, we don't know what exactly that will entail, but it's likely that we'll see a whole range of crazies living in The Purge's America, plotting their eventual murders against each other. Maybe we'll get to see whether violent crime persists outside of The Purge, and how criminals are punished by a severe, unique government.
Weirdly enough, The Purge TV show is being developed on the heels of the film franchise's former PR director being hired at the actual White House, under the Trump administration. Just sit with that news for a second, and maybe go lock your doors.
The Purge TV show will air on Syfy but does not have a set premiere date yet.