'Deadpool's First Movie Villain Could Be His Fans
Why is fan support almost never supportive?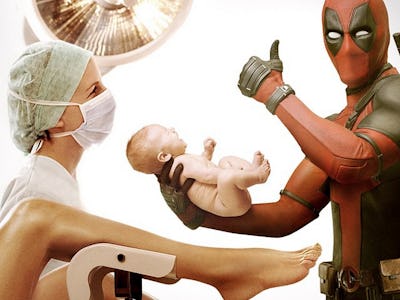 During a recent interview on the set of Deadpool, Ryan Reynolds told Mario Lopez why he was outfitted in red and black leather: the fans.
The stories of fan campaigns to save beloved shows have become the stuff of legend. The "Save Chuck" campaign, intended to convince NBC to renew Chuck by buying Subway sandwiches and donating to the American Heart Association is a frequently cited moment. You may have also heard about the peanuts sent to CBS executives in support of Jericho. There was also a little show called Firefly and its rabid fan enthusiasm that led to the 2005 movie, Serenity.
But Serenity bombed. It was a beloved entry in the Firefly saga, but it opened at #2 its opening weekend and performed poorly until the home video release. Peanuts couldn't save Jericho, with a second season lasting just seven episodes before being yanked yet again. Chuck lasted five seasons. Ditto for another NBC comedy series, Community.
The most recent notable casualty of the television renewal bloodbath was Constantine, a dark procedural drama based on the DC Comics series Hellblazer. Fans went rabid on social media, sounding off as often as they could. During a second season pitch meeting between producer Daniel Cerone and NBC execs, Cerone allegedly showed them "#SaveConstantine" trending at that exact minute.
Despite efforts, Constantine was still axed. Prospects of renewal elsewhere are grim.
Crowdfunding has proven to be a fruitful alternative, as it sidesteps wary producers. But there is still risk of spoil. The CW series Veronica Mars and cult indie comedy Super Troopers have found success crowdfunding, but there have been more projects that died or suffered backlash. Nineties icon Melissa Joan Hart had an embarrassing Kickstarter failure, and Scrubs alum Zach Braff lost plenty of goodwill in financing his movie, Wish I Was Here, where he later admitted he could have secured financing by traditional means.
But Deadpool could be different. The Canadian mercenary from Marvel Comics had neither a Kickstarter or a comprehensive campaign, just voices shouting loudly. Campaigns aren't the death knell for projects either; Serenity was loved by fans and however briefly Jericho's second season lasted, it was still renewed. Campaigns aren't quite a death sentence, they just have a history of baggage that is difficult to ignore.
The production of Deadpool has garnered goodwill from even casual comic fans with a passive familiarity of the wise-cracking assassin. Studio photos featuring Deadpool's signature humor and the April Fool's prank that announced the coveted R-rating — the first mainstream comic book movie to have that rating — have fans smiling, and they didn't mail a single legume. Fox's renewed faith in the project is a straight response to the enthusiasm of fans, not a reluctant and obligated cash-in. Everyone is acting accordingly.
But for audiences who don't crowd Comic-Con, "Who's Deadpool?" will be a common question asked in the coming months. Handsome as Ryan Reynolds may be, his box office draw has been spotty and the possible fatigue of comic book movies by audiences (Avengers: Age of Ultron made money, but not as much as its predecessor) means a big-budget movie based on a second-string comic character remains risky.