Maisie Williams is Officially Playing X-Man Who Turns Into a Wolf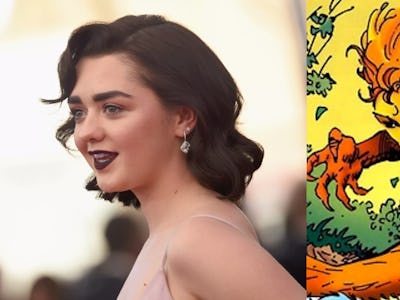 Getty Images / Frazer Harrison and Marvel
Well, after a year of rumors to the effect, it's finally true: Maisie Williams, best known as Arya Stark from Game of Thrones, has been cast as Wolfsbane in the forthcoming X-Men film, The New Mutants.
Director Josh Boone confirmed the choice on Thursday when he posted concept art of Williams as Wolfsbane on Twitter.
Wolfsbane is the wolf-like mutant alterego of a Scottish girl named Rahne; she has heightened senses and healing powers. Maisie Williams — besides being extremely talented — fits the part well. She's an ideal age (the New Mutants crew is basically a young adult version of the X-Men), and has already demonstrated that she can pull off Wolfsbane's fierceness with her performance as the headstrong Stark on Game of Thrones.
The world has wanted Williams as Wolfsbane for ages, and it's not alone: Williams wanted it, too. "I would absolutely love to be a part of it, [and] to be a part of the Marvel family," she told EW in April 2016. "New Mutants looks absolutely incredible and I've always loved the idea of spin-offs and Joshua Boone is incredibly talented. So, yeah, sign me up."
Looks like everyone's gotten their way.
The New Mutants will likely come out sometime in 2018. If you don't know much about the characters, check out our beginner's guide.