Amazon's New Seattle Headquarters Will Include a Homeless Shelter
A great plan to give back to the community.
by Monica Hunter-Hart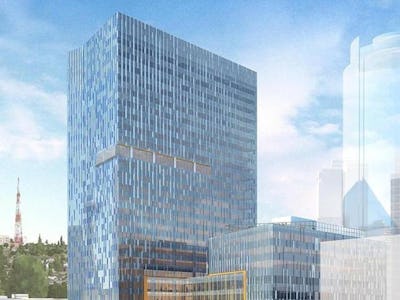 Amazon
Amazon has creative plans for its new campus in downtown Seattle, besides enormous biospheres: It's collaborating with the nonprofit Mary's Place, which serves homeless women, children, and families, to build a permanent shelter within its headquarters.
Within the newest building of Amazon's campus, 47,000 square feet will be devoted to the shelter for a resource center, and 65 rooms will be able to house over 200 people each night. The building will be operational in early 2020, along with the rest of the campus.
This is just the next step in the relationship between Amazon and Mary's Place, which began in April 2016 when Amazon allowed the organization to use an empty building on its campus as a shelter. The site was a former Travelodge hotel; Amazon renovated and redecorated it, and just like the future permanent shelter, it houses 200 family members. Soon they'll move to a new former hotel nearby until the permanent location is finished.
Amazon also launched a generous donation matching campaign for Mary's Place in April.
"To have a permanent downtown Seattle location within Amazon is a game-changer for Mary's Place and the families we serve," Marty Hartman, the executive director of Mary's Place, said in a press release. "We've loved being Amazon's neighbor, and now the opportunity to move into their headquarters permanently is truly a dream come true. This unique, first-of-its-kind shelter will remind families that they matter and that their community wants to help them succeed."
"Mary's Place does incredible, life-saving work every day for women, children, and families experiencing homelessness in the Seattle community," says Amazon CEO Jeff Bezos. "We are lucky to count them as neighbors and thrilled to offer them a permanent home within our downtown Seattle headquarters."