Outbrain CEO Praises Facebook for Removing Spammy Ads
Which is a little surprising since Outbrain makes those "Seen Around the Web" ads.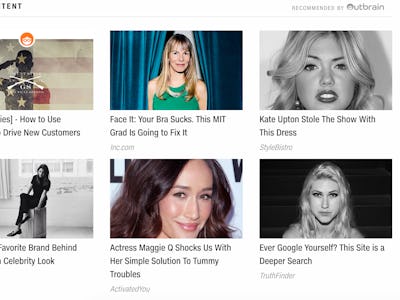 On Wednesday, Facebook went to war with pages full of ads for toe fungus cures and overnight weight loss. In a surprising turn, it is a move that was praised by the CEO of Outbrain, a company that you might be familiar with for running the often sensational "other stories from around the web" links you've seen.
"I think this is a very good move by Facebook, that should help improve the user experience," Yaron Galai, CEO and CoFounder of Outbrain tells Inverse.
The Facebook announcement didn't target any specific websites, but stated that the company is trying to decrease the financial incentives for links that lead to pages that are full of ads and no content. And while Outbrain may run links along the bottom of news stories along the lines of "This Pup Was Struggling On a Beach. Then A Model Saw Him and Rushed to Help," the company doesn't include itself in the list of sites Facebook is fighting. And maybe this means Outbrain links will get a little classier.
"I believe this is targeted more at ]social aggregators', and not at the premium publishers Outbrain partners with," says Galai. Outbrain, and its main competitor Taboola provide links to these stories for large sites like The Washington Post, along with other clients. So Facebook's move could create more clicks for Outbrain by emphasizing these sorts of pages.
And Galai generally supports getting rid of pages on Facebook that just spread shocking headlines without information to back them up. "Social aggregators today have too much of an incentive to create grabby headlines, and bait the users to a page with little content and lots of sensational ads," he says. "Any move that reduces the financial incentive companies have from creating pages like that is great for the publishing eco-system."
In October, a number of big news sites ended contracts with Outbrain and Taboola for reportedly having clickbait links and difficulties showing that the links were for sponsored content.