Dave Burd Would Like to Be Andy Kaufman, But for Now He's Lil Dicky
Hip hop's infamous comedian/rapper hybrid tells Inverse who his favorite features on 'Professional Rapper' are.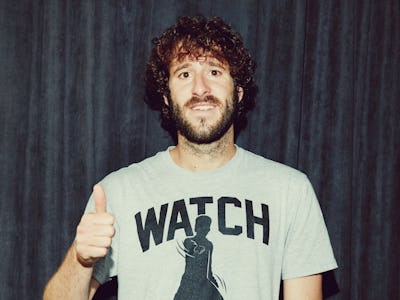 W Magazine
It's pretty easy to coax Lil Dicky into doing a bit with you. Dave Burd, who raps and releases wildly popular music videos on YouTube under his stage name Lil Dicky, calls himself everything he anticipates critics hurling at him, so he's no stranger to goofing around. On "Who Knew," he says he looks like a "mathlete," "a quiet nerd," and is just a "dude with a tall frappe."
Over the phone with Inverse, Burd answers our tongue-in-cheek questions about Brain (the CGI anthropomorphic brain he created for "Pillow Talking") in a serious tone. Brain, Burd says, stacks high among his impressive list of features on his first album, Professional Rapper. That list comprises of T-Pain, Snoop Dogg, Rich Homie Quan, Hannibal Burress, Jace, and Panic! at the Disco's Brendan Urie. Of Brain, though, Burd says, "Well, he's always been right there, man. He's always been one of my favorite artists, and, though, it wasn't as cool to have him on a track as some of the other artists I had."
Speaking facetiously about himself and his CGI rapping brain, Burd can side-step describing what his career is morphing into. In 2014, he uploaded an indie music video for his "funny-type rap" song "Ex Boyfriend," in which he breaks up with a hot girl after meeting her ex, whose penis is apparently gigantic. The music videos for the first three singles off Professional Rapper were paid for in part by Burd's saved-up bar mitzvah money. (When arguing with Snoop on the album's title track, he adds, "my bar mitzvah money, but don't diss me, buddy.") $ave Dat Money, the most beloved of his first three singles, follows Burd and his ragtag film crew as they convince homeowners, yacht-owners, rappers, and sports car dealerships to let them film with expensive looking stuff, for free.
Burd followed up $ave Dat Money with Pillow Talking, one of the most expensively produced music videos of all time. Though he stuck with Tony Yacenda on directing (Yacenda does most of his videos), Burd added Jordan Freda and Mike Bodkin to his creative team. Freda and Bodkin, between them, have worked in special effects on Harry Potter, many Marvel films, including Guardians of the Galaxy and The Avengers, and Mad Max: Fury Road. In addition to their work with Burd, Bodkin and Freda are co-founders of the digital agency Giant Propeller.
Burd takes these guys' talents and has them create the CGI dinosaurs, aliens, pussy-eating wolves (based on Game of Thrones' direwolves), a talking Brain, and a benevolent God (played in the video by John C. Reilly) he dreams up while arguing with a girl he just had sex with. Though they've worked in music before (on Katy Perry's E.T. video), Freda and Bodkin sound especially psyched to be involved with Burd's strange and winding career. When asked which project they're most proud of, Freda practically yells, "You gotta go with Lil Dicky, right?" The video took almost nine months to make.
Though Burd's legions of fans have made a near-Frank Ocean level meme out of asking him for a second album, he's a little evasive when prompted to describe his future plans. "There's a part of me that's Lil Dicky, definitely, but ultimately I'm a writer and a comedian before I'm a rapper. I guess it'll depend on where the Dave Burd part of me wants to go." Rumors have been circulating online that the TV show Burd mentioned in his AMA is actually going to be a Netflix show. Fans cite his usual director, Yacenda, describing an as-yet-unannounced Netflix show on his website as evidence for this theory.
Burd's no stranger to writing out a narrative, though he's known for his rap career. With a background in marketing, he got himself a Trojan spokesman gig and has appeared in comedy-sketch style commercials for a few years. Most of the tracks on his album don't simply feature verses from guest performers; he instead casts them in dialogue with his persona. Snoop is simultaneously annoyed and amused by him, and he bonds with T-Pain on "getting pussy with our personalities." Even Pillow Talking is essentially an argument with an imaginary woman (played here by Taylor Misiak), and could be featured in a sketch comedy show instead of marketed as a rap video. "Adding other characters into what I'm doing just comes naturally to me," Burd tells Inverse. "It's just the way my mind works. Also, you don't see that in music as often, so I guess it helps me stand out."
Though he won't describe the TV show he's working on, he does say his artistic goals extend beyond novelty rap. "I try not to think far ahead, and my focus right now is Lil Dicky, but there's always Dave Burd the comedian. I think of Andy Kaufman playing Tony Clifton, using performance as social experimentation, and that appeals to me. But for now, the music is where I'm at."
Professional Rapper is available on iTunes and Spotify.