So, Nightwing Is Evil and He's Going to Hunt Down DC Superheroes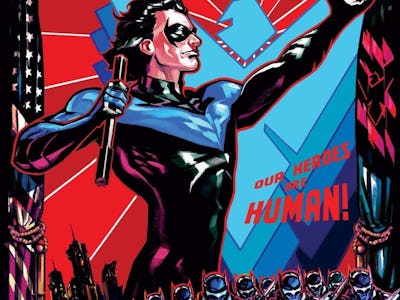 Screen Rant
Here's an unexpected image: Nightwing, leader of the New World Order. That's what will happen in DC Comics' upcoming six-issue series Nightwing: The New Order, arriving August 23 from veteran Nightwing and Mighty Morphin Power Rangers writer Kyle Higgins and artist Trevor McCarthy. In an alternate, future timeline, Nightwing eradicates the world's superheroes until he soon goes from the hunter to the hunted.
This isn't necessarily a fascistic image for Gotham's boy in blue, but it is oddly timed given not just current events but Marvel's own (and way less ambiguous) storyline, Secret Empire. But, unlike Secret Empire, Nightwing: The New Order takes place in an alternate universe much like Mark Millar's 2003 thought experiment, Superman: Red Son, where Superman landed in Soviet Russia instead of Kansas. So Higgins's storyline isn't disrupting what his favorite superhero stands for but rather exercising their limits. At least for now.
"My all-time favorite DC books throw characters we know and love into future worlds that are equal parts familiar and terrifying, laced with moral issues that aren't black and white or easily solved," Higgins told Screen Rant. "Ultimately, these stories say something about our world. And that's what we are aiming to do with this Nightwing series, through the lens of a future generation of heroes."
In the preview images posted below, Nightwing is in the early stages of his takeover, with the likes of Superman, Wonder Woman, Green Lantern, and even Lex Luthor and Doomsday succumbing to the vigilante. It's unclear from the previews why Nightwing took arms against his fellow heroes.
Nightwing: The New Order #1 will hit comic book shelves on August 23.
This post has been updated to reflect writer Kyle Higgins's confirmation that the story does not take place in normal DC canon.