Morph the Red Ranger Into Any Color in New 'Power Rangers' Book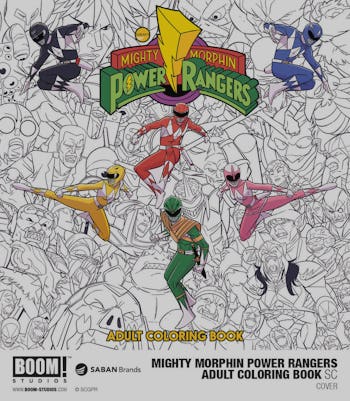 BOOM! Studios
Ever wondered if the Red Ranger would look pretty — in pink? Well, now you can. BOOM! Studios, the publishers behind the surprisingly exceptional Mighty Morphin Power Rangers comic book, will be releasing an adult coloring book this fall featuring six Angel Grove teenagers with attitude.
Unlike the coloring books of your childhood, BOOM!'s adult coloring books will feature complex black-and-white drawings based on illustrations and variant covers from the comic book series. You'll basically act as your own inker for art from Hendry Prasetya (DC's Power Girl), Jamal Campbell, and Goni Montes, all of whom have contributed art to the comic.
BOOM! is also publishing two other Mighty Morphin books: the Mighty Morphin Power Rangers Poster Book, a 20-page collection of removable posters, also containing art from the comics, and Mighty Morphin Power Rangers Year One: Deluxe Edition, a hardcover collection of issues #0-#12 of BOOM!'s Power Rangers comic. The latter will have bonus material like a cover gallery, character designs, the complete "The Ongoing Adventures of Bulk and Skull" backup, and a new story from series writer Kyle Higgins (previously of DC's Nightwing). Did I mention it's a really good comic?
This year has been quite the resurgence for everything Power Rangers. The coloring book hits shelves on August 30 in comic shops and September 5 in bookstores. The poster book will be released in September, while Mighty Morphin Power Rangers: Year One will be out just in time for New York Comic Con, on October 4.
Check out the books below.