Twitter is Losing It Over Dove's "Beauty Diversity" Bottles
Dove's not getting away with this one.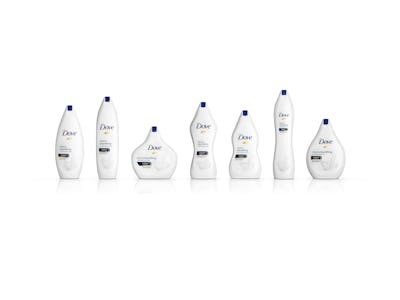 Dove
As feminism slowly gains mainstream acceptance, it also gains market value, and Dove is trying to cash in. The toiletries company has launched a new campaign to celebrate "beauty diversity" with body wash bottles that come in a range of bewildering shapes.
The idea for these "Real Beauty Bottles" was concocted by London-based advertising agency Ogilvy UK. Dove made 6,800 of the bottles and will sell them in 15 countries as a part of the company's "Real Beauty" campaign, launched in 2004, which is meant to promote natural beauty through videos, advertisements, events, and workshops.
Dove says that its limited edition bottles are meant to "remind" women to celebrate their physical differences. "They're one of a kind — just like you," reads a press release. (In fact, the bottles come in six kinds.) "But sometimes we all need reminding of that." The release goes on:
"From curvaceous to slender, tall to petite, and whatever your skin colour, shoe size or hair type, beauty comes in a million different shapes and sizes. Our six exclusive bottle designs represent this diversity: just like women, we wanted to show that our iconic bottle can come in all shapes and sizes, too."
Twitter immediately jumped to critique the campaign. Users took issue with the disingenuousness of social justice messaging that's done for corporate profit. They noted that a campaign comparing women's bodies to plastic bottles objectifies them. (Dove's press release also describes every woman as a "limited edition.") They called Dove hypocritical for advocating body positivity when Unilever, its parent company, sells skin-lightening products.
Users joked about the overall ludicrousness of the idea.
As well as the fact that the bottles don't resemble actual body types.
Corporations will continue to exploit progressivism for financial gain, but at least we live in an age where we can eviscerate them on Twitter for it.