A Lot Goes on in the New Teaser for Stephen King's 'The Mist'
"Few things are more beautiful than destruction."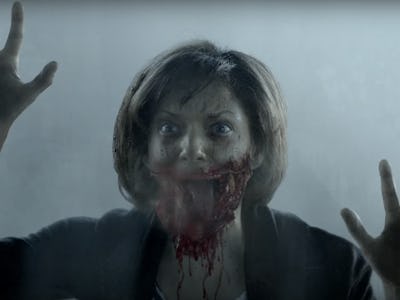 Spike
The town of Bridgton, Maine, is having a stressful week in the new trailer for Spike's new television series The Mist, based on the Stephen King story of the same name.
"Few things are more beautiful than destruction," Frances Conroy's (American Horror Story) Natalie Raven says. And, indeed, there's a whole bunch of destruction in this aptly named teaser. We don't get much more of a sense of the show's plot than we did in the first trailer, but the latest spot really shows just how horrifying — and gory — things are going to get.
Featuring sex, screaming, dislocated jaws, dead bodies with eyes gouged out, moths flying from mouths, and something looking to crawl out of a body Alien-style, this new teaser has a lot going on in it.
The series will focus on the events of the fictional town of Bridgton when a mysterious white mist settles over it, bringing along unexplainable, violent creatures and teasing out the worst in the town's residents. It's expected that, like King's story, Spike's series will find the truest horror element in just how far people are willing to go when threatened and thrown into a world they can't explain.
The Mist premieres on Spike June 22, 2017.