Wonder Woman Goes to War, Kicks Ass in Final Trailer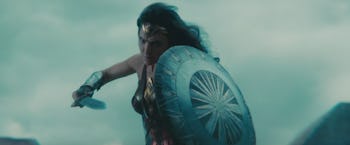 Warner Bros. Pictures
After initial concerns that there wasn't enough advertising for the upcoming Wonder Woman movie, the trailers are out in full force now — and Diana of Themyscira is certainly forceful in them. The final trailer, which premiered on Sunday night during the MTV Movie & TV Awards, shows Wonder Woman heading off to World War I to kick all sorts of ass and reveals more of the plot and one of the film's villains: Doctor Poison.
The trailer opens with little Diana talking with her mom, Hippolyta, before bedtime. Diana wants to fight (and promises she'll be really careful and just use a shield), but Hippolyta warns that fighting does not make you a hero. This scene is intercut with shots of an adult Diana stepping out of the trenches on the trenches on the Western Front under a hail of gunfire.
From there, Chris Pine's Steve Trevor crash-lands and explains WWI to the Amazons. He says they're in danger, warning that the evil, masked Doctor Poison is creating terrifying weapons. Diana wants to go back with Steve to help put a stop to the fighting (pretty heroic, no?), but her mother won't have it. So, instead, she steals her iconic weapons and armor from the armory and heads off to war.
Wonder Woman will be released in theaters on June 2, 2017.